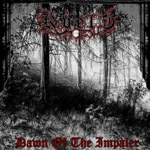 Sabbathid Records – 2010 – Greece
"Dawn of the Impaler" is Kvele's first full-length album and without any argument they deliver black metal only its most violent and rawest form. Some bands try to deliver more modern black metal that supplied with ambient keyboards and symphonies. Where there is nothing wrong with that, it's nice to hear black metal stripped down to its organic form and played with the brutality that it's meant to be played.
"Forge My Hatred" is the second track on the album and starts out with massive double pedal drumming supplied by Ungod and shredding riffs from Nekys. Nadir's shrieks are packed with a blood curdling hatred that will send chills down your spine. "Trembling with Fear" and ""Legacy" is both pounded out with an old-school rhythm and raw guitar tone that is reminiscent of bands such as Marduk and Darkthrone.
Not being too familiar with Kvele myself, I'm looking forward to seeing what else they will deliver in the near future. I'm glad to see more bands going back to more basics and delivering black metal in the organic form it's meant to be in.
8.5/10