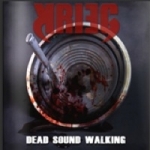 Necrotorture Promotion – 2010 – Italy
Hmm, I am sure that you all thinking about this is a band from the USA Black Metal band, but no, they are from Italy and play thrashing heavy metal with modern sound!This album was released by the band themselves after 5 years later with foundation.
If you expected with thrashing black metal with heard "Krieg" name you will have disappointing because Krieg is playing modern thrash/heavy metal like Testament,Megadeth,Annihilator,Nevermore mixing! To be honest their sound is awesome.I realize their promo letter they had work with very cool metal musicians for recording sessions of this album. Like Glen Flicer and James Murphy from Testament. They think about it when James's hands touched this album ,their sound has been more agressive than before.
Do you think you are headbanging in a local pubs while playing famous bands , i think Krieg for you guys ,you will love 'em. Go download or buy their album and you will have find great headbanging experience…
7.5/10