Reviews
KOROTORY "Chapter III: The Conquering"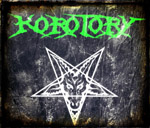 Self-Released – 2012 – U.S.A.
The Americans KOROTORY are new necomer anymore. Since 1995 they already honour the sympathetic Metal community with their music. Their already third full-length cd "Chapter III" which the New Yorker distribute in in-house production is now at the ready.
The cd starts with "Hell's Gate" initially very symphonic and acoustic. But this silence and relaxation doesn't lasts a long time! From "Spineless" onwards it is shown what the guys are really able to do. Thereby it doesn't comes easy to me to musically classify KOROTORY. Death Metal base frames come upon Groove Metal and Thrash Metal. Diverse other Metal genres are also touched on. Thereof develop very arbitrary songs which are nevertheless melodic and ooze of energy. This is also reflected in the individual riff combinations. Technical recorded on a high level shows "Chapter III" the bands' versatility and their inventiveness. Skilful used samples and the game with different tempi gives the production additional bite. Thedistinctive voice of vocalist Ray Truhn brings additional hardness into the play which becomes the all in all nine songs. KOROTORY show that you can be quite creative and innovative in the Metal area without there making overly leeway into the experimental area! Listen to "Chapter III". It's worth it!!!! Besides be yet said that the guys are searching for a label for the distribution of their music. Let's keep our finger crossed for KOROTORY that this will come true as quick as possible!