Reviews
KOLP "The Covered Pure Permanence"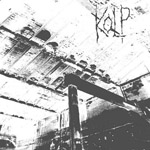 Temple of Torturous – 2010 – Hungary
Kolp, who released this album at the beginning of 2010, is a side project of Knot and Jim from Veer. The bands genre is depressive black metal themed raw black metal.
Coverart, band photo, logo are too minimalistic, as it should be in this genre. Production is mid quality. But lately this kind bands count increases faster and faster. I think, always main bands better than side projects.
Effected and pathetic vocals really grate on my ear, but this genres fans will like this.
6/10