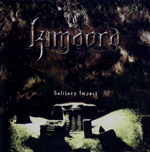 Sytgian Crypt Productions – 2010 – Lebanon
There is a music trading getting bigger and bigger in Lebanon. Actually, this trade has slowly been spreading into the world, and nearly everybody may know this trend. Kimaera is the band that has that genre, as well. Band was formed in 2004 and it has one single and one album released in 2006. The new album released in July, is again from Stygian Crypt Productions. There are ten new songs and one music video clip of a song named "The Taste of Treason" in album.
Album had been recorded in staff's home studios. I hope, there are high qualitied equipments in home studios, because records are quite successful.
Band makes doom/death metal with a melancholic voiced violin and a keyboard supporting to guitar. There is entirely Middle East smell in the album. Standart doom/death metal rules to the style in the band. There is extra different atmospehere in songs with scream vocals, because sometimes we can hear clean guitars and clean vocals, so it gives excitement to the songs.
The most interesting side of the album is that while the songs are going to heavily death metal, suddenly, it is changing to doom metal. It is an interesting work.
In terms of Turkish listeners, this album may come interesting because of close Middle-East sounds. It can help to people bored with classical doom/death bands, and want to listen to Middle-East melodies.
7/10