Reviews
KILL THE PARISH "When Humanity Is Overrated"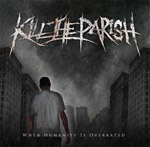 Noisehead Records – 2010 – Sweden
Kill the Parish is one of the young bands of Sweden, they started with a demo in 2007, after that in 2009 they released an EP in 2009 and then they released their first full lenght album via Noisehead Records this year. Taking a look at the band's name and profile of the label's bands, you can predict what you are about to hear.
The new trend that all new European new brand death metal bands joined got Kill the Perish too. You name this genre melodic death metal but you can feel core influences too. This is more extreme than the other bands, this is more death metal.
I can't find more to talk, but people who love this genre may like this too. I suggest to those who love melodic death metal with metalcore influences.
7.5/10