Greetings and welcome to Extreminal Webzine. First of all, present KILL THE PARISH to our readers?
Tappe Mäntyranta (Lead guitar): Thank, you! Kill The Parish is a five man band from Stockholm, Sweden! We have been active since late 2007, I joined the band in late 2008. We kept the same line up since that except for changing singers too often. We play death metal that is influenced from all kinds of subgenres like grind, death and metalcore. I prefer to just call it metal.
You have a debut album out called "When Humanity Is Overrated" – tell us a few words about your first release – where did you record it, what's the meaning behind the title,are you completely satisfied with the final result….
We actually flew to Austria to record this album at the Noisehead Studios. The studio is located in a small village in the middle of nowhere so it was really cool to just leave the everyday bullshit back home and just be there with the guys. Having total focus on the recordings.
We came up with the whole "Humanity Is Overrated" – thing when we were writing the lyrics for the album. And sort of realized that every song has its own theme lyrically, but the stories all belong together, and in some weird way questioning the human race being the apex of our nature.
This is our debut album which of course is a really big thing for us, but we recorded it between October and November last year, so it's been almost a year now. We have developed in so many ways since that. But the fact that there is stuff that I would like to change on this record, just makes me more hungry for the next album, that we are currently writing.
What are the plans after the release of your debut? Do you have a tour planned to promote it?
Well, we're currently booking some gigs around Europe. But it's hard sometimes to do it yourself, without any booking agency, which we don't have yet. But we'll play as much as we can!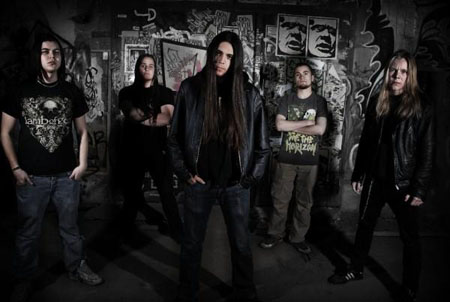 Who is the creator of the band's name KILL THE PARISH and what's the story behind it?
It's an old name, very old! I'm not exactly a founding member, but what I know is that we considered changing it, after I joined the band. But then we signed our first record deal and we had already built up a little fan base with that name, so we ended up keeping it. But it's just a name, who gives a damn?
Who writes the music in your band? Do you have a main composer or you all contribute equally to the writing process ?
We all compose, which of course fastens up the whole writing process. Usually someone presents a couple of riffs that we combine with some other ideas and then we're rolling! Sometimes it happens that someone has a more or less complete song that we just make some fine adjustements to. But it also happens that we start from scratch, but that does not always work out!
What are your lyrics about? What inspires you to write them ?
As I said earlier, most of our lyrics are about the human existence and so on. And most of them are actually written by our bassplayer Dennis Morgun. He comes up with some really sick ideas sometimes, I like that!
Are you satisfied by your work with Noisehead Records and do you plan other releases under their banner ?
We are very pleased with the work that Noisehead has done for us this far. Really good people that work hard for us! I can't see why we wouldn't stay on their roster.
Do you play live often? Tell us some crazy stories around your live performances…
We play live pretty often, especially in Stockholm. It's very common that we sit a couple of hours in the bar; between soundcheck and stage time, not always the best decision.
I remember once when our stage time got delayed a couple of hours and we just kept on partying, we ended up being completely shitfaced! It seemed like our drummer, Viktor (Bingselius) actually had a hard time even finding the drum kit on the stage.. And I almost fell of the stage while headbanging!
Anyway drunk or not.. There is always complete mayhem on our stage!
Who are the bands/musicians that inspired you to start playing music and still influence you today?
My personal influences are pretty wide, but I started listening to heavy metal bands like Iron Maiden and KISS at the age of 9. A year later I took my first guitar lesson and here I am now! Haha! Of course I've started to listen to a lot more brutal stuff over the years. But my first guitar hero was Ace Frehley and he still is one of them.
We all know that the Swedish metal scene is enormous.Which one is your favourite Swedish metal band and what's the reason to have so many metal bands in Sweden ?
There has always been a lot of great bands from Sweden. There's too many to pick just one, but At The Gates definately goes to one of my personal favourites!
I actually can't say why there's so many metal bands from Sweden, but we have winter for like 9 months a year so I guess people ends up being depressed, drinking beer and playing metal!
You are at the beginning of your carreer. How far does your dreams go? What do you want to achieve with KILL THE PARISH?
I joined the band less than 2 years ago, so this has gone very fast for us. Although there's a lot of hard work behind our success, I must say that we still had some luck on the way. The dream right now would be if we could go on tour with some bigger bands. That would help us out a lot. My personal dream is to be able to make a living out of playing metal.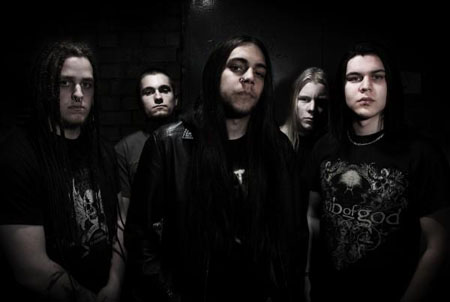 What are you doing when you are not occupied with the band ? Any other hobbies besides playing music ?
Mostly music, but besides that; hangin out with friends, partying, travelling, video games… I think that's pretty much what the other guys would mention too!
That's the end of the interview.Any final words for the readers of our webzine ?
Thanks for reading and supporting us!! Check out our CD, and hopefully see ya on the road!!