Candlelight Records announced the signing of Ukrainian Heathen Black Metal masters KHORS.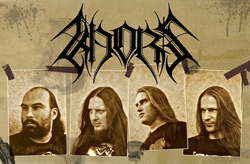 KHORS began their career in 2004 as a trio of skilled musicians already known within the Ukrainian Heathen Black Metal scene. Inspired by the spiritual ancient world of the elder ancestors, the band recorded their debut album "The Flame of Eternity's Decline" in 2005 (released via Oriana Music in the same year). Having strengthened the band's line-up with the addition of a rhythm guitarist, KHORS then began to play live shows. The second album, released the following year and entitled "Cold", had a more mid-tempo approach, in general having shifted the emphasis to melody and the atmospherics of keyboards and leads. On this second album the band departed from many of the stereotypes of black metal.
Further musical evolution saw the release of their third album, "Mysticism" – the most progressive record in the band's discography so far, offering a cloak of atmosphere and moods to the listener, incorporating elements of dark metal. This third album saw Khors move to American label Paragon Records and the band began to receive increasing resonance in the world of underground metal.
The fourth album, "Return To Abandoned", released in 2010, garnered further support from metal fans worldwide. Continuing the creative and ideological concept of the previous album, "Return To Abandoned" also absorbed the spirit of the earlier records as the band gained strength, spirit and wisdom from the years that had passed. The sound had become more complex, full of aggression and atmosphere.
The new album, Khors' fifth full length, is a real revelation and definitely another milestone in the band's creativity. The recording of "Wisdom of Centuries" was finished at the beginning of 2012. The dense sound of the album is harmoniously complemented with the addition of ethnic instruments, shrouded with a bewitching atmosphere of shamanic mysticism. This album is also the first in the band's history to be performed in their native language. "It has been a long and difficult way for us to finally reach this opportunity to show the world who we are and what we are stand for. We thank the Candlelight crew for giving us such an opportunity and we're really very excited to be a part of the Candlelight roster" comments the bands bassist, Khorus.
"Wisdom of Centuries" will be released in September.