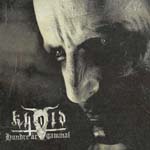 The 5th record of Khold from Norway,Hundre Ar Gammal( Hundred Years Old) was released a few months ago by Tabu Recording.I like the Khold's similar records
After Tulus' loomed large in 90's years,Mister Gard found the Khold; different than Tulus,it is as slow tempo, less depressive sound..Thats how Khold was.But in this record Khold made some changes and composed faster songs.
Khold's sound is more similar to the inner circle of 2000's Black'n Roll of Black metal.We can say this trend is more clear now after Satyricon used it in their last records.
Khold is a cold band as its name, lyrics are Norwegian, there are no fast drums or fast guitars as norwegians used to have and the cover of the record have different images of Gald,so there is no change at this record too.
Hundre Ar Gammal starts really harsh, then get a little slow at the middle and at the end, it makes listeners a little bit boring, but a good album formation.The track named "Hundre Ar Gammal", "Forrykt" and "Mester Og Trell" may impress you if you like middle tempo black metal music.
*Thanks Darknia for helping