Hello again after a long while! You are busy with your album promotions lately, how is it going?
Anthony: Good day Cenk, It's going quite well actually. It is too bad that rarely anyone purchases the actual Disc these days but you can see it circulating everywhere around forums, torrents, mediafire and several other servers!
KAOTEON meant to do a straightforward mind blowing album with a message to the extremist and ignorants in the region and whoever enjoys intense blackened death metal are praising VENI VIDI VOMUI on top of their 2011 list and that alone makes us so proud.
Veni Vidi Vomui is your first long-length album and it is released by Osmose Prod., a big label. Why do you think they chose you?
Anthony: Herve, the owner/manager of Osmose Productions, always released bands with solid riffs and that is what made KAOTEON fit their Line-up; I believe Osmose supports bands that put a lot of efforts in their albums without sounding gay or mellow and they have been doing so since 1989 which is more than enough to appreciate or depreciate a certain band.
Walid: In addition to what my brother said, I'd like to add that KAOTEON sounds different than most, if not all, extreme metal of nowadays. Herve was intrigued when we released our first demo in 2004 and his listening pleasures were greater with VVV. KAOTEON proved to be a force that stands defiant in a region that shakes under the pounding feet of revolution.
Your "Provenance of Hatred" demo was released with Extreminal Distro and I know you since that day. What are the things that changed in KAOTEON since that day, who joined and who left, how are your lives?
Anthony: Provenance of Hatred was released throughout several distros around the world and it was a major success in the underground metal scene; Band members have developed a lot since 2003 especially with our new blasting drummer. The lyrics and riffs have a signature of their own already and KAOTEON will hopefully establish a sound of their own throughout the years. Life is life, you've got the shitty days and the shittier ones in between but we always make the most of it and have a blast!
Walid: Ziad Blaster joined the ranks of Kaoteon behind the batteries of war and this opened new doors for us as you can hear on the newer compositions of VVV.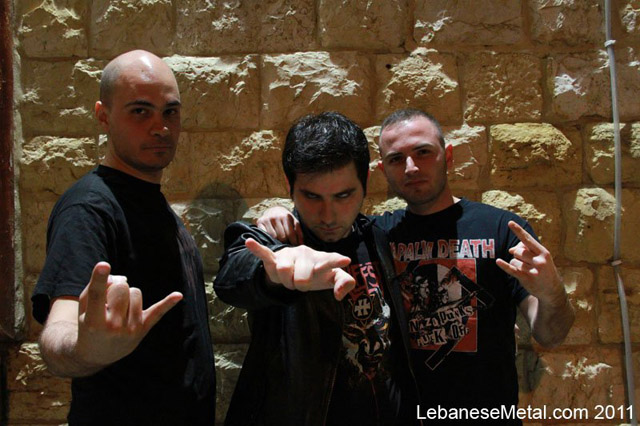 If you take a closer look at the bands from the Middle East like in Turkey, Lebanon, Iran, Egypt etc. have a melodic/oriental themes but you are making extreme metal without any compromises, are you guys fed up with cliches?
Anthony: I believe that metal should sound like metal and whenever I want to listen to melodic/oriental music then I would play my Rabih Abou Khalil or Fairuz collection; anyway, I respect bands like Nile or Melechesh sounding oriental but keeping it Heavy and Brutal while some bands are just playing traditional oriental melodies with distortion and expect praise for it. The induction of oriental sounds adds a great mood to music if used properly and we don't mind using it whenever it sounds right – Check the track HATEFORGED RETALIATION for instance. At the end of the day, I compose my music without any limitations so you might hear different types of instruments or genres played by us over time.
Walid: We live in extreme conditions that require extreme music. If you compare VVV to our 2004 demo you'll notice that the band incorporated different new means of delivering our extreme message and you will be surprised by the weight of the means we will be blending into our upcoming album.
Can you tell us about the progress of Veni Vidi Vomui album? You put some songs from your old demos…
Walid: The album is spreading through the extreme metal scene at a steady pace. I can't say that it is spreading like a plague, since we personally have no time to advertise it ourselves, but we take more pride in the fact that fans are spreading the word out of dedication and appreciation of our art.
Anthony: The demo tracks made us reach metal heads around the world and we thought that we owe it to ourselves to re-record them and release them on our full length to give them their worth. Veni Vidi Vomui was done for a long time before its release but time and the horrible financial situation didn't help us to get done with it earlier. Today, we are so proud of our release especially that it is getting a whole lot of praise from the extreme metal scene.
How did you get in touch with Dan Swano? It is a big thing that he processed mastering of your album, I am sure you are satisfied with that..
Walid: We love the push that Dan Swano gave to our sound and we would love to work with him again. We tried different mastering houses, both famous and underground, but Swano's sound was far more Metal than anything else. His broad experience plays its role in this. We contacted him and he was very helpful and we're grateful for the hard work he put into our sound.
You got some negative reviews from some web sites, what is the reason to that in your opinion?
Anthony: Big labels like Osmose Productions send their releases to all of their connections and it is obvious that a fan of happy tunes and even nu metal would hate our sound and consider it as noise just like we would consider their music as utter bullshit; Not to mention the different backgrounds that reviewers may come from and their opinion of our message. After all, our sound is definitely not meant for everyone especially those with little minds and fragile hearts.
Walid: Like Anthony said, to each his own! Some people like our album while others don't and we like that fact. One of the pillars on which one of the negative reviews was built is the fact that we will never "become rockstars" through the release of an album such as VVV. That's a fucking compliment in my opinion!
Your album cover is designed by Adel Youssef, he had a successful work with it. Does he have other works for the other bands?
Anthony: Our album cover was designed by Sergio H. and Kaoteon but Adel Youssef edited it to make it look better than the original version as we weren't very pleased with the original work and we are grateful for his help especially when he assisted me to add the live pictures which I enjoy the most! You can find out more about his work at www.grouppsw.com
What are your long-term plans as a band? Do you plan a tour?
Anthony: We are currently working on the material for the second album and it is going great. However, living in a country like Lebanon where Metal Music doesn't make you any funds means that you should have a second job and that sucks for a musician; we are all working professionals that can't leave their jobs for a long time to accept the tours suggested to us so far. We plan to release the second album and hit some festivals next year until we have enough fans to make our dream come true and live solely from and for metal music.
Walid: We believe in the message we're delivering through KAOTEON, and we will be working on new material as long as that message remains ablaze in our hearts.
Veni, Vidi, Vomui means I came, saw and vomited. Can you tell us about the concept of this album?
Walid: I came up with the idea while inspired by Caesar's VVV. It is simply as it is. A statement of disgust towards what the world has come to.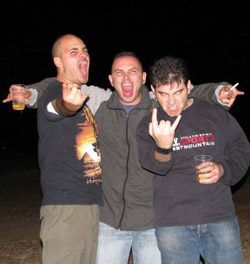 Let's talk about something apart from music, like the rebels in the Middle East. What do you think about them? The ones in Tunusia, Egypt, Syria, Jordan etc. there are serious public rebellions.
Anthony: We were born and raised in times of war and rebels, I knew people that died others that are crippled and I am certain that everyone is fed up with all the political and religious instability that is taking away our youth, our rights, our dignity, and our life. I do hope to witness the day when all of this is done and over with but until that day comes I wish death to every extremist and radical, I wish hell to every tyrant that kills in the name of their god or any other deceptive cause. My full support goes to every man of honor that preaches for a united prosperous society that believes in Freedom while my greatest concern is to have one regime replacing another without any core developments.
Walid: I personally salute them for I know what they have at risk and it is greater than their own lives. I think that what's happening now is something that should have happened many years ago but it's better late than never.
Lastly, tell us about something you want us to know, anything… We hope to see you in Turkey too… See you!
Anthony: Thank you for the interview mate, we were the first band you listened to from this region as you mentioned in our first interview in 2004 and we promise to keep you interested. The second album is definitely in the making and we would love to play gigs or festivals in Turkey if we receive the right support, till then, Spread our plague to your metal connections and let us know what they think!
Walid: Thank you for your time and thank you for reading. I've already seen the metal scene in Turkey and I'd love to tear up the stage with you sick fuckers!! Keep supporting extreme and underground music m/