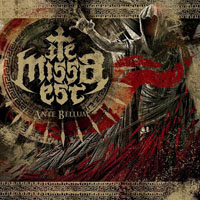 Trendkill Recordings ( Candiria, Anal Cunt, The Chariot… ) inked a deal with French deathcore outfit ITE MISSA EST.
Their new album, "Ante Bellum", recorded, mixed, and mastered by Neb Xort at Drudenhaus Studios ( Anorexia Nervosa, Brutal Rebirth, Ultra Vomit… ) will be available digitally on 17th of October through Itunes, Amazon, Deezer and Spotify. CD to be released in Europe on 31st of October and USA / Rest of the world on 14th of November.
Check 2 brand new songs on their
Myspace
and a third exclusive song on their
Facebook
official page.
Pre-orders online now through the
Trendkill webstore
( CD and Shirts / Poster bundle available ).