Featured
Interviews
News
Interview with Drew Rizzo of Midnite Hellion
Midnite Hellion just got off the road in the US with Anvil supporting their excellent new release called "Kingdom Immortal". What better time to fire off some questions to drummer Drew Rizzo who I have known for years: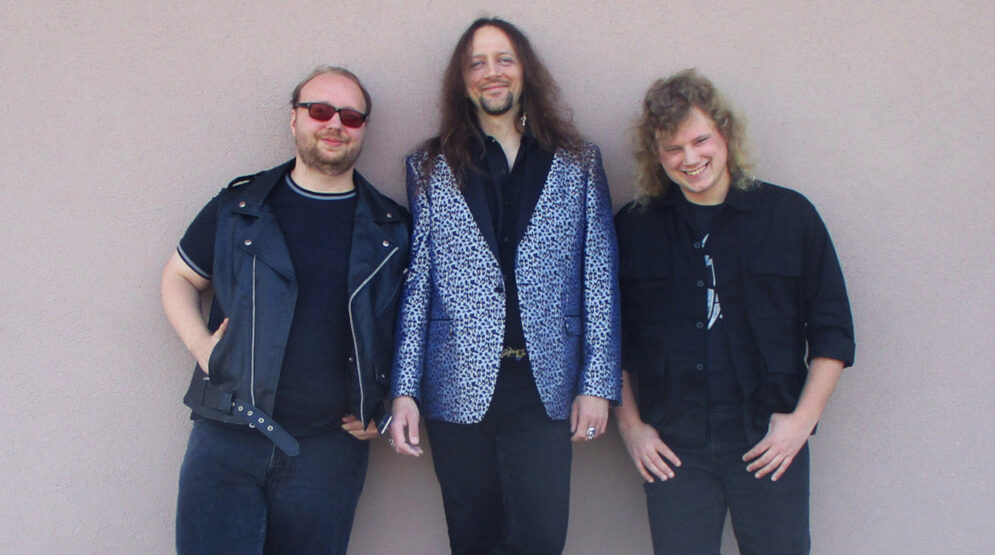 Where were you born and where did you grow up?
DR: Born and bred in Trenton, NJ.
What sort of kid were you growing up with? What did you want to be when you were growing up?
DR: I was a pretty reserved kid for the most part. Typical stuff for an 80's kid, playing outside, riding bikes, exploring, and video games for the winter months or rainy days. I miss those days man! In preschool when asked what I wanted to be when I grew up, I said I wanted to be a dinosaur. Shortly after, I saw a video of The Who and Keith Moon inspired me to want to play the drums. In both cases, dreams do come true!
When did you start to listen to or hear music for the first time?
DR: Music is one of my earliest memories, as my parents were both into music. My father went to Woodstock, my mother saw The Beatles. They would always spin their records which were primarily 60s and early 70s Rock. The first 45 I got of my own was of The Who's "See Me, Feel Me" and my first LP was "More of The Monkees," when I was 3. Being that young and not having any genuine concept of time just yet, I had no idea that everything I was listening to or watching wasn't current, as we watched a lot of reruns in the house as well.
Now when you were say 15 or 16 years old, did the metal bug hit you? If so what were some of the 1st bands that you heard and was it a style that you got into right away?
DR: Metal was definitely earlier than that, due to the introduction from my parents. Sabbath's "Paranoid" and "Master of Reality" were in my father's collection, as well as Alice Cooper, Hendrix, Aerosmith, Cream, and Zeppelin. I heard Metallica for the first time on 91.3 WTSR but wasn't able to find out who it was until a few years later. When I was 10 was when I got bit fully by the Metal bug, and I owe that to my friend's older cousin Bri. She just got Pantera's new album "Far Beyond Driven" and played us "Good Friends And A Bottle Of Pills" which, being kids, we found hilarious. I got her to play more from the album and I was hooked! The next day I walked to Sam Goody's and bought the cassette. Looking back at it, I must have been humorous to the clerks working there because here's this little kid who didn't know song titles but only the lyrics asking if they have the Pantera album with "I Fucked Your Girlfriend Last Night" on it. A year earlier I asked for the Sir-Mix-A-Lot album "I Like Big Butts."
Aside from Pantera, Megadeth was another early one. My family belonged to BMG and I ordered Megadeth albums thinking I was getting Metallica, which was a happy accident. GWAR was another BMG order gone right? I ordered "Scumdogs of the Universe" and they included a free copy of Anthrax's "Among The Living." I couldn't get enough, anything I could get my hands on I did. Whitesnake's "Saints and Sinners" was also around this time based on my martial arts teacher's recommendation.
Now when did the underground metal bug hit you? What were some of the 1st bands that you heard? Was it a style that you got into right away or did it take a few spins before you really got into it?
DR: A lot of what was underground when I was a kid seems to have become more mainstream now due to the accessibility and rising popularity of it all, so I'll base this on what I considered underground at the time. It was difficult to find a lot of underground stuff when I was getting heavy into Metal in the mid-90s since a lot of it was out of print, so scouring the used bins was always a treat to come up with something like Armored Saint or Mercyful Fate. I did hear stuff from Headbanger's Ball so while I couldn't find it, I could see it….until it went off the air for good. I also taped shows off of the radio as there were a few that reached my area so I got turned onto a lot of stuff that way as well. I always read the liner notes to albums as well as interviews to see what bands were mentioned and I would check them out.
I read about bands in magazines that I just could not find anything in stores to buy. For some bands that I discovered on my own or through friends with likewise limited knowledge, I only knew the albums that were in stock. Considering this was before the internet was the huge resource it is now, it was hard to know many bands' discographies. When I was 16 years old, two major turning points happened. First, my high school friend Joe used to wear an OverKill "Fuck You" shirt to school, and he was kind enough to loan me W.F.O. and Wrecking Your Neck – Live. Secondly, I started working at Kay Bee Toys and a dude twice my age named Rob took a part-time job there the same day. One day we got talking about Halloween, and I mentioned that I loved their "Better Than Raw" album. He asked when it came out, I told him two years ago, and he said that he only knew their albums from two decades ago. Until that point, I thought they were a new band. He proceeded to sell me his collection of 75 cassettes and 30 shirts for $40, which has been the best $40 I ever spent. In that box were bands and albums I only read about but had yet to ever hold a physical copy of, like S.O.D, Possessed, Carnivore, Exodus, Onslaught, Grim Reaper, Nuclear Assault, Metal Church, Celtic Frost, and OverKill's "Taking Over," "Under The Influence," and "The Years Of Decay" were in that box. That box introduced me to King Diamond as a solo artist, as I never knew he had a solo career at that point.
The really real underground stuff came full-throttle to me thanks to Jack Koshick and his Metal Meltdown festivals in Asbury Park and Irvington. I was fortunate enough to attend the third year when I was 16 and perform at the fourth year in Asbury, and also attended the 5th year in Irvington. His festivals led me to find so many underground bands of every subgenre, including Deceased, Blitzkreig, Holocaust, Artch, Steel Attack, Rob Rock, Disinter, and Macabre. I've always enjoyed experiencing the live aspect first before hearing records when checking out new bands so the festivals were perfect for me. Also, my high school friends and I were getting more into Death Metal so we'd always turn each other onto whatever we could find such as Devourment, Dying Fetus, Nile, Impaled, Anal Blast, and others of course that were more known as such as Morbid Angel, Cannibal Corpse, and Deicide.
In your teenage years, did you get to go to any record stores and go record shopping? I know you live in NJ as do I, did you go to Vintage Vinyl (which recently closed) or Rock Dreams to name a couple back then?
DR: Yes indeed! Rock Dreams was one I frequented but Sam Goody was my main one until I got my license as there was one within walking distance from my house. Additionally, there was The Record Collector, Princeton Record Exchange, CD World, Wall To Wall, and Art in Hamilton. Vintage I didn't go to for the first time until I was in college as I hadn't heard about it until then, and I also went to Coconuts in Wayne at that time. When Best Buy first opened up, their music section was pretty good, and then they started carrying out print CDs when I was 17, but you'd have to act quickly because once it was gone, it was gone. I used to go to flea markets a lot growing up for a lot of my albums. Also, belonging to both BMG and Columbia House worked well as I would be able to find stuff through their catalogues that weren't available in stores.
What made you decide you wanted to pick up an instrument and in your case the drumsticks? Did you ever consider the guitar or bass or even singing at all?
DR: Funny enough, drums were my first love but not my first real instrument. I got a Sears drum set when I was 5, but my first real set was when my uncle loaned me his set when I was 12. My mother taught my sister and me the piano at a young age. In the fourth grade, my teacher signed me up for violin lessons in school and the following year I took up the tenor sax. My sister started taking guitar lessons and I got a single lesson too. The teacher came to our house to give lessons but after my first lesson, he had an accident so that was the end of that. He taught me the first three riffs to Enter Sandman. Other than that, I am completely self-taught on the guitar. I do play the bass as well. I should have been a singer for load-in alone, as I seemingly chose the worst instrument to haul around…but nothing beats the power of playing the drums.
Did you ever take lessons or are you self-taught? Who are some of your favourite drummers?
DR: My uncle loaned me his drums the same summer that I started learning guitar. I am mostly self-taught on drums, but I did take lessons in high school for two years from a Jazz drummer in the area named Tony DiNicola. My favourite drummers include Tommy Aldridge, Gar Samuelson, Cozy Powell, Mikkey Dee, Keith Moon, Dave Lombardo, and Tommy Lee.
So now before we start getting into your band career, did you know what fanzines were when you were going to these stores? Did you read Metal Mania, Metal Maniacs, Kerrang or Metal Forces at all?
DR: I read all of those, as well as Aardshock, Metal Edge, Circus, and pretty much anything I could find that covered Metal. I did get a few Metal Core and Grimoire issues too when I could find them, and I managed to get all ten issues of Metal Meltdown too. I read a lot of Guitar World magazines too plus of course The East Coast Rocker and The Aquarian. The Trenton Times newspaper even had a music section in it, which did cover Metal once and a while. Actually, that's how I found out about the first Metal Meltdown festival in '99. Saturday morning's paper was plugging the event that weekend, so Friday was out but could still catch Saturday's event. My father offered to take me and a friend to Pennsauken but I couldn't find anyone who wanted to go. Would have been my first concert.
Now before you joined any bands, what were some classic shows you saw? NJ had some great clubs back in the day. Did you manage to go see any shows at City Gardens or Club Bene, Stone Pony, Dingbatz, etc? How about going to NY to Lamour's or any Phila, PA shows?
DR: Ironically enough, I grew up 5 minutes away from City Gardens but was too young to have attended any shows there before they shut down. Never made it to Club Bene, unfortunately, but did make it to the Stone Pony to see Life Of Agony's reunion show and Paul Di'Anno. Most times I was in Asbury was to go to the Convention Hall, where I caught Lombardo's third show back with Slayer and the OverKill DVD-taping concert. In high school days, aside from the Metal Meltdowns, I went to see the Nile, Impaled, and Incantation at Obsessions in Randolph which is a show my friends and I still talk about to this day. Seeing Pantera twice was a thrill, as well as seeing Metallica, Slayer, and Sepultura at the Tattoo The Earth festival at Giants Stadium as my second concert when I was 15. For some reason, most of my friends who drove wanted to go to Philly instead of Jersey so I caught a lot of shows at the Trocadero and the Electric Factory instead of going to the Birch Hill dates. Only went to the Hill once to see OverKill, which was their second to last show before shutting down. I got to play L'amour twice in high school plus I went there a bunch after to see many concerts including King Diamond, OverKill, and Cannibal Corpse. My college was 20 minutes away from Dingbatz so I started going there as often as I could, starting with Metal Church in 2004 on a Monday night. The city was a 30-minute bus ride from Paterson and an hour and change train ride from Trenton so I would catch everything I could there, and I would be at Starland almost every week if not multiple times a week including a Helloween concert in the middle of a blizzard. I was fortunate to see a lot of bands with their original lineups when they reformed, including Testament, Loudness, and Biohazard, and Carnivore was a blast to have caught twice. WASP with Joey Belladonna's opening was great, especially since he was playing the drums and singing simultaneously. Maiden, DIO, and Motörhead at the Garden was killer too, and so was Celtic Frost. I never had a bad time seeing Twisted Sister either! I started travelling to different states for concerts to catch the bands multiple times on tour, which I did a lot for OverKill and WASP and started doing even more once I met my fiancee in 2007. She was at L'amour SI buying tickets to Carnivore the night I was playing their opening for Lizzy Borden. Most recently, we went to see the final two Slayer concerts in LA.
Around what time did you decide you wanted to join a band? Did you want to actually form a band or join one already around? Did you try out for any bands, but didn't join before you joined your first band?
DR: Once I hit 12, I started getting more serious about either joining or forming a band. I didn't care which one I did, as long as I did something! I had a couple of friends in school who played guitar and bass, and we would jam covers together but never worked on originals. The bassist, Adam Hill, and I would end up doing more together over the years. The older I got, the more people I met from surrounding towns and I started jamming more with other people, especially people older than me. My age group didn't have many people that were too serious about forming a band and playing gigs so it seemed. One of those people was a guitarist and a singer; for some reason, it was difficult to find singers in the area so this was a key meeting. He knew a guitarist named James who had a bassist and they all came over one night and we jammed one of James' originals. By the end of the night, I had officially joined my first band. James introduced me to his favourite band, Dream Theater, as well as Yngwie Malmsteen and Morbid Angel. He encouraged me to start learning Dream Theater songs so we could jam them together which helped my drumming immensely. We kept going for a few years before things hit a standstill, and the band drifted apart.
Now how did you come to join your first band which was Horrifier, if I'm correct? Did you find them or did they find you? I saw you only played on one release, which came out in 2007. How did that go for you being in the studio to record for the 1st time? Did you get to play out live a lot while in the band? How did you end your time with that band?
DR: My first real band was actually a direct result of James. He introduced me to his girlfriend's friend Ryan Jones, as he thought we'd get along since we both liked Death Metal. Ryan had just moved to the area from VA and played guitar in a band called Vambrace. He came over one day and we started to write and arrange songs together. After a year or so, we decided to look for other members. I had a friend named Brian Kerr who could growl like the best of them, so we had a vocalist. Adam Hill joined on bass, and Skinslip was born. Our first concert was in Adam's basement on Black Friday 2001, which we called the "Thankskilling Tour" consisting of a single show. I was a volunteer firefighter and we had access to the fire hall so we started hosting shows there too. We played L'amour in Brooklyn, which was a trip being on the same stage as our heroes, and the Metal Meltdown 4 in 2002 in Asbury Park. We played the Relapse Stage in the middle concourse, with our set time being in-between Diamond Head's first-ever US appearance on one stage and Saxon on another, so we had a total of 8 people watching us. Didn't matter, I was 17, in high school, and on a festival bill with Manowar, Nuclear Assault, DRI, and many others. Exodus was supposed to play too, but Paul Baloff passed away two months before the show. Had dinner with Cannibal Corpse the night of our performance too, as we were the only bands down in catering at the same time. It was a pretty cool first big step into this.
Horrifier started in 2006 officially under that banner. Skinslip kept going until the end of 2003 when Ryan moved back to VA. I also went to college in 2002, so bands were on the back burner for me. In 2004, I went to see Exodus at the Cricket Club in Irvington and it turned out one of my friends' bands was the opening act. His band brought a bunch of people from our hometown area, including two guys both named Joe who were a guitar tag team. Joe Hoyer and Joe Potash had been working on a band together for a couple of years and they invited me to jam that summer once I was home from college. We jammed a bunch that summer, and that was it. Potash joined another band, and Hoyer and I would get together more and jam with other guys in town. We formed a short-lived band at one point and did some gigging.
2006, I left college in 2006 and Potash left his band and wanted to work with Hoyer again musically. Their friend Amadeus Zajac agreed to play bass, and our friend Mike Skodnick, who I also met at the Exodus show, joined on vocals. We got together and Horrifier was born. The Horrifier demo songs were songs that Hoyer and I wrote together the summer before, and Potash also had some input on the material before it was finalized. We recorded the demo in Hoyer's basement. Hoyer had an 8-track recorder, and Potash did all of the engineerings. My portion was pretty daunting. I had to record without front bass drum heads, which gives the drums a completely different response than with the heads on it, and of course, the first time I ever played without front bass drum heads was right as we were tracking the songs. On top of that, I had to play the songs from memory without a scratch track or a guitar to play along with except for in "Hammered," where Potash played along on guitar with me. Every experience in the studio is a learning experience, and this was definitely a major learning experience. We played two shows with Mike on vocals before he left, and then Potash re-recorded the vocals on the demo in 2007. Another friend, Craig Vaspory, joined on vocals, and we played L'amour SI twice that year, including the show opening for Lizzy Borden. There were internal tensions in the band and I wasn't happy anymore, so I left in December 2007.
Looking back, what are your thoughts on your time in that band?
DS: Horrifier was a multi-part band, which I had another stint with a year later. I learned a lot during that time, especially about songwriting and tone. I look back at that time with fondness as there was a brotherhood among us all. They were a big part of my life at one point, and it's always great to see them whenever we run into each other.
Now it didn't take long to hook up with another band and they are called Capitalist Death Machine and you guys put an EP out in 2008 called Lambs to the Slaughter. How did you hook up with them and what do you think of your playing on this EP? What led to you leaving this band or did the band just break up? Are any memorable shows with this band?
DR: C.D.M. consisted of almost all co-workers at my job at the time, so I was already friendly with them before playing with them. Their drummer was leaving and they asked me to fill in on drums for a booked show and to record on their EP which I agreed to do. As I was still in Horrifier, they knew I wasn't able to commit full-time but they asked me to join if I were to ever leave. I had a great time with C.D.M. up to that point so I figured why not, they were great dudes and we had fun together. I had a much more positive experience on this EP than on the Horrifier Demo. However, I saw I had a lot to learn and in hindsight, I should have waited to learn the songs better before recording. Nonetheless, I'm still pleased with the recording. It was a very fun year which felt like it went for a lot longer than it did considering the number of shows we played in that time. The biggest and best show we did however was opening for OverKill at the Croc Rock. Everyone started going their separate ways leading up to that show and it kind of was the natural progression back to Horrifier. C.D.M. played its last show in December 2008.
Craig called me to ask if I would be interested in playing a reunion show, which was about a week after the last C.D.M. show. We did another reunion show a few months later, and for a while, I was just playing the drums for them live before rejoining fully. This era of Horrifier was the most successful, as we went from being the opening act in Manhattan in August 2010 to the headlining draw in Brooklyn in February 2011. We got to a crossroads again as I wanted to play out more and tour while the others did not feel the same.
From reading the bio on your website, it says you formed the band in 2011. So how did you come up with the band and the band members who would play on the band's debut demo called " The Fever"? Did you have a vision at the time of what you wanted the band to sound like even back then?
DR: After Horrifier, I decided I wanted to form my own band from the ground up and become a primary songwriter. I was not getting any younger and wanted to make my dreams come true, so I figured the only way to make that happen is to do it myself, for myself and by myself and try to find others who shared the same goals. The original idea was a five-piece band similar to that Rainbow in instrumentation and even in sound as I wanted to stay more in the traditional vein of Heavy Metal, but we never found a keyboardist. Jaron Gulino and I were friends for a while and he joined on bass and vocals. Amadeus from Horrifier and I would jam together at times, and he always wanted to play guitar in a band. He and I wrote the song The Fever together. As he was not a lead player, he suggested bringing in Dan Sclavi, who we were both friends with. Jaron couldn't commit any longer at that point so I put in an ad for a singer. The mantra was better than Baloff, in terms of vocal timing. We got Sonny Zackeo through a Craigslist ad, and Bill Dripps was a friend from the area so he agreed to play bass. Amadeus' work had him travelling more so he had to split, and we all were friends with Mario DiBartolo who agreed to play with us as a live guitarist.
So how long was the band actually together before you released your demo? What are your thoughts on it today even though you're the only member still on it?
DR: The band officially formed in April 2011 and we started recording the demo in October 2011, which was released a month later. Up to that point, it was my favourite recording experience. That demo really started to introduce the world to the band and it sold out within three weeks of the initial pressing, which I was not anticipating at all. We ended up doing a second pressing which sold out fairly quickly too, and a third pressing was done exclusively for the Keep It True festival in 2012. We got a lot of backlash for releasing a cassette in 2011.
So now you are back in 2012, with a new demo and a new singer, what happened with Sonny Zackeo? How did you find Scott Alpert? Thoughts on this release these days?
DR: Sonny left the band during the recording of our Enter The Unknown EP as he was more content with playing locally instead of touring. Scott was a friend of Mario's, and also like Mario he could not commit full-time but agreed to help us out. He got a promotion which was going to kick in later in the year so he had a few months before he would have to start travelling for work. He did a great job and it was a pleasure to work with him. The EP lead us to do an East Coast tour with Prime Evil, which was a great experience. Following the tour, Scott would depart for work and Mario went back to college full-time a couple of months later, so I knew that we would have to start looking for new members before long.
Now just so you know I know you have had many member changes over the years, did they have to discourage you or piss you off a lot that guys you would find not totally commit to the band?
DR: It was more encouraging than discouraging because that just meant that I had not yet aligned with people who shared my vision just yet so I had to keep going. Everyone who has left the band has left for a valid reason, and being in a band isn't cut out for everyone. At times it felt like a training ground because people think they know what they want but don't know what it is all about until they experience it. That's not a slag at all of course, because how can someone know what they are getting into fully until they get the full effect?
Now for your next release, which came out in 2013, so you just like a freight train, just keep rolling along, was a 7″ on Witches Brew Records with 2 new tunes. You also had a new singer, a female one at that named Pamela Berlinghof. Where did you find her and did you try out many singers at the time? Did you care that you might get some crap for having a female singer?
DR: After Scott, we were trying to find the perfect fit to move forward full-speed ahead. We auditioned close to 20 singers, and the finalists for the position were two females and a male. Pamela was the best of the bunch.
Now at the time was she kinda just a fill-in or was the plan for her to be a full-time member? How did you hook up with Witches Brew? Did you find them or did they find you? Looking back what are your thoughts on the 2 tunes on it? How did it do for you guys/gals haha at the time? Who came up with the amazing artwork for the cover? Is this release still for sale?
DR: She was a full-time member. I first got in touch with Witches Brew when they released the Horrifier full-length album, and the label and I stayed in touch throughout the years. When they were active again, they reached out to see if we were interested in working together. The songs were a good representation of that time and place but needed more work which is why The Morrigan had some reworking on its subsequent release. Hour Of The Wolf stayed on 7″ which is where it will remain, except for the rare cases when we bring it out live for some fun. The release itself did well and led us to several opportunities, including the Ragnarökkr Metal Apocalypse festival in Chicago in 2014. We shared the stage with Grim Reaper, featuring Nick Bowcott, which was their first US concert since 1987. Additionally, Picture, RIOT, Black Death Resurrected, and several others were on the bill and it was a great time. Five Milligrams in Indonesia was the artist for that release, which led to our collaboration for several pieces of artwork for albums and shirts. It has been out of print for a long time so if you find it, scoop it up!
Now in 2014 you released a live cassette on the "cassette only" label Contaminated Tones Productions, which featured 6 live songs on one side and an interview on the other. How do you think the live songs came out as they were recorded at Champs in Trenton, NJ, a decent club that has metal shows every now and then? How did you hook up with the label?
DR: This release should be marked as unofficial.
Now it took 3 years (2017) until we saw something new released from the band, this was in the form of a full-length also on Witches Brew called "Condemned to Hell". Why the 3-year wait? What happened with Pamela? I know it must be bad enough when you lose band members, but was it all a bit more frustrating losing singers left and right???
DR: Looking back I can see that it wasn't meant to be. Pamela was in a different place in her life than the rest of us and she made many sacrifices to be there. I view the first few years to be more of a demo phase for the band and 2014 marked the end of that era. Not to discredit any accomplishments during that time, but it wasn't the right lineup to move forward with any longer as it stagnated. I spent most of 2015 alone, which I spent writing the rest of "Condemned To Hell" and auditioning for prospective new members. I was moving forward and kept my eye on the prize. It took the better part of the year but good things come to those who wait.
So now you have this full-length come out and you are down to a 3 piece. Where did you find bass player/singer Rich Kubik? The same goes for guitar player Jeremy Moles. How did you come up with the title for the album? Were all the songs pretty much ready to go before you went into the studio? Do you find it easier now being a 3-piece band instead of a 4 or 5-piece band?
DR: Jeremy and I linked up through a BandMix ad that he posted. This dude is a phenomenal player, and we clicked instantly. Jeremy and Rich were friends prior to the band and he invited Rich to come in to audition, and Rich and I became fast friends. It felt like a brotherhood again for the first time since Amadeus and I jammed in the early days. Jeremy brought in the song Black & White, which he and I finished arranging together.
Other than that, most songs were already done with the exception of the reworking of The Morrigan, which Rich and I completed. The album title was based on the battles we all felt that we had to go through to meet our goals, as we all went through hell and back again. Honestly, being a trio is the way to be. Fewer people to coordinate with schedules, plus it is easier to get the unit tighter that way. Just realized it now, but the band formed as a trio and it has remained as such since 2016 for good reason.
Do you feel the sound of the band had changed much from your 1st demo up until the release in 2017? Did you get to do much touring behind it like playing up and down the East Coast, etc? Is this release still for sale?
DR: Yes and no. If you are factoring in vocals, then yes, but only because of the vocal styling. Musically, it's basically the same as I have been a primary songwriter since the beginning. Rich and I work very well together on songwriting collaboration. We did the tour on the album regionally quite a bit in 2017, as well as some additional dates further south on the East Coast. We are almost completely sold out of this album, less than 100 units remain in vinyl format only.
Now there was another long break from 2017/to 2018 until something came out. What happened during this time? Did at any time you think about breaking the band up? Were you ever asked to join any other bands?
DR: In 2018, touring continued behind "Condemned To Hell." We did a lot more regional dates as well as East Coast dates. At the end of the year, we toured the Midwest and Mountain Regions of the US supporting Otep which was a great experience. Never once did breaking up cross my mind as we were in a heavy promotional cycle for the album. I did get a few offers to join other bands over the years but I don't have time for anything else. Midnite Hellion has been my primary focus since its inception and it will stay that way.
Now in 2021, you had a brand new guitar player, Charles Koegler. What happened with Jeremy and you releasing a one-song single? Was that kinda to introduce everybody to Charles?
DR: Jeremy actually left in 2017. He was in college during his time with the band and wanted to pursue a double major for his senior year which left him with little to no free time to commit to anything outside of his studies. Not only did he give us five months' notice of his departure, but he also has come back for stints here and there as we have had an open-door policy with him where he is welcome back to the band anytime he wants. Who knows when he might join us on stage again next? Charles joined us in 2019, and in between we had friends filling in for dates and tours. Charles joined the band two months prior to us entering the studio to record "Kingdom Immortal" and performed with us live that year. While the album was slated to be released in 2020, we felt it was best to hold off until we would be able to tour properly behind it, hence the reason for the first single coming out in 2021.
So now this year, 2022, you released a brand new full-length called "Kingdom Immortal". Why this title? Who came up with the artwork for this release?
DR: The title itself was inspired by thinking about how musicians are immortalized after they pass, and incorporating it into a Roman Mythology theme. Where is Mount Olympus? Kingdom Immortal, that's where. In a way, the title is a tribute to all of those who are sadly no longer with us, but their memory lives forever. The artwork direction was from my fiancee and me, and the artists, Steve Fastner and Richard Larson, took the idea and created a monster. We were really fortunate to have the stars align on this record. Not only did we have Alex Perialas produce it, but we also had a great team that he assembled behind it including Mike Parker and Michael Caporizzo who engineered and mastered the album, respectively. Additionally, one of Alex's former students, Daniel Bacigalupi, did the vinyl mastering and recently worked on records from Barry Gibb, Dolly Parton, and others. Everyone exceeded all of our expectations, and I'm truly proud of this release in every aspect.
Now Power Chord Productions, is that your label? Or did the release come out on a different label shortly thereafter?
DR: Power Chord Productions is my label. We decided to go completely independent for this release, and it has paid off in dividends.
So how long were you in the studio for this release? How much of your own money did you have to put out? Were the songs pretty much ready to go prior to going into the studio?
DR: It took 6 days total to do the record. We literally lived in the studio working around the clock, and we got it done with time to spare. There were two additional weekend sessions for gang vocals and sound effects, which were more like a day each due to only really working on the Saturday of each time. Ithaca, NY is about a 5-hour drive from us so the other days were dedicated to travelling and hanging out, of course. The band itself financed a lot of it but we also chipped in some to make sure that everything was taken care of properly. The songs were completely arranged prior to entering the studio, so we had extra time to have fun and experiment with different sounds. For example, we had the ability to try out several different guitars to see which one sounded best for each song. Did I mention I loved that experience?? Nothing like the sound of a Neve console and a properly acoustically-treated room to set the basis for a record!
If you had a chance to do any 2 cover tunes, what songs would they be and why?
DR: As a personal thing, I would love to record the guitar tracks to the Speak English Or Die record by myself with Alex. The same amplifiers and guitars that were used on that record were used on Kingdom Immortal, so it would be a fun experiment since it could be done logistically. The heaviest riffs ever put on tape in the same studio with the same producer and equipment…who knows, maybe next time we'll have the free time to do it, even if it's just one take each! In a band setting, I would love to record a cover of The Beast Within by OverKill and Out On A Limb by Armored Saint. We've played the OverKill song live a few times and it's my favourite song by them. It perfects the power and rawness of East Coast Thrash Metal, especially from the earliest days. Armored Saint because the Raising Fear record still is very special to me, plus it's my favourite Dave Pritchard guitar solo. I would love to watch Charles track that lead, he would simply destroy it!
Have you ever played overseas? If you do I wanna be your roadie ha ha.
DR: Unfortunately, we haven't played overseas just yet, but we hope to soon! When we do, I'll let you know for sure! We did just play all over the US supporting Anvil this past summer for 39 concerts, which was a true pleasure! There is a noticeable difference in crowds just from regions of the country, yet everyone is rabid and hungry for live music. What a trip, can't wait to do it again!
Now obviously things have changed for the better and worse in some ways for bands like yours over the years. Nowadays it is fewer album sales for bands and all people want to do is download shit whereas years ago people paid for music. How are you as a band dealing with it?
DR: I understand that people are living more minimalistically in the sense of fewer possessions, and you and I both know that album collections take up a large amount of room. Having said that, I can respect how people would rather stream or download instead of owning a physical product, but I could never do that myself. It takes away from the whole experience of sitting down, getting lost in the album art and reading the liner notes while spinning the record. To this day, I have never downloaded music, I only purchase physical copies. For us as a band, we have seen the changes over the years from the beginning until now with physical sales decreasing while streams and downloads increase. Fortunately, a lot of people still want physical products even if it means a t-shirt over a record, and there are a lot of people who are starting to collect again. As long as they are listening to the albums, that's all that matters. If they buy a physical copy, great; if not, that means I have an extra copy for myself to enjoy.
Now I wanna backtrack just a bit, you told me you played Lamour's in Brooklyn. Looking back how do you feel about playing such a legendary club?
DR: Dude, that was a total moment of being on cloud nine. Growing up listening to bands that played L'amour Brooklyn was one thing, but to be sitting backstage and also being on stage where those bands played was something else altogether. Before going on the first time, all I could think about at 17 was how I was sitting there with a whiskey and coke drinking where Manowar, Metallica, Carnivore, and OverKill, among so many others, had their last drink before hitting the stage many moons prior. It was surreal and I still get chills thinking about those shows there. George and Mike Parente treated us so well and I was fortunate to befriend both of them. We remained friends through the years and I got to play their new L'amour venue twice when they reopened in Staten Island with Horrifier. Last time I saw George was at an OverKill show at BB Kings where he had to split early due to work but gave me his backstage pass to say hello to the band for him. I heard he's doing well but haven't seen him in a good 15 years plus. It was always fun hearing his stories and it would be great to see him again, even if just for a drink.
Now back to the above question a bit. Did you have any type of game plan going in when you went to release it? How many copies did you hope or think it was going to sell? What formats did it come out on? Did a label from overseas put it out?
DR: There was a full plan of action that got derailed due to what happened in 2020, but for good reason. Originally, we were set to release the album in the late Spring of 2020, but due to the year, we decided to wait until we could tour the album. It worked out for the best also due to production delays at the pressing plants, and everything has been going according to plan. It was released on Vinyl, CD, and Cassette, and we just had to repress more CDs just before we hit the road with Anvil so we would have enough copies for the tour. In total, there are 2100 copies in existence. Cassettes are almost gone, and Vinyl isn't too far behind. No label has picked it up overseas just yet so everything is available at pcprocks.bandcamp.com or midnitehellion.bandcamp.com.
How much time in a given week is spent doing band-related stuff? How many times a week do you practice?
DR: It really depends on the week and what is going on at that moment. On average, a minimum of 5 hours per day is spent on band-related activities, not including rehearsals. When we are preparing for a tour or studio time increases. We've been rehearsing consistently twice a week for the past four years now.
So now you have this new album recorded and ready to go and you really can't promote by touring due to COVID up till recently. Did that drive you mad in some ways at times?
DR: We were extremely eager to get this album into as many hands and ears as soon as possible, but at the same time we knew that we needed to wait for the right time to strike. It did us well as we maintained our twice-a-week rehearsal schedule so not only did we keep our chops up, but we also had something to look forward to doing while everything was shut down. Also due to what has happened with the record pressing plants and the lead time to get the product in hand, our vinyl LPs were in hand two days before the official release date so there was no delay in getting orders shipped.
Now this recent tour with Anvil. How did you manage to get that tour, especially with a new album on your own label and not an established label? What was your reaction like when it became official?
DR: The stars aligned for us with the Anvil tour for sure. Both Anvil's management and agent felt we would be a good fit, and it worked out tremendously well. We were ecstatic, to say the least as we knew we needed to get some legs on this record by touring in as many regions as possible, and Anvil was looking to do the same for their newest record.
Now your a 3 piece band. Did you just go out in the van and a U-Haul? Did you bring anybody else with you? How much merchandise did you bring? Did you sleep in the can a lot or actually get rooms? Who did the driving?
DR: Pretty much, except we used our bassist and singer Rich's SUV instead of a van with a U-Haul trailer. Being that we had the SUV, it was pretty cramped so it was only the three of us. My fiancee surprised me by flying out to the last show in Chicago, so she joined us for the ride home. At that point, we had a lot more room than when we started due to merchandise sales. Speaking of merchandise, we brought out our entire stock plus we made two tour shirt designs. Thankfully, we got rooms every night and never had to sleep in the car at all. Well, there was one time that we all fell asleep in the car waiting for roadside service to show up to replace our trailer's blown-out tire. Rich and Charles did the driving, and I did the navigating.
How many shows did you do in total? How was the attendance at the shows overall? Did some of the attendance kinda suck when the show was in the middle of the week? How long did you get to play for? How much merchandise did you bring with you?
DR: We played 39 shows in 60 days, so pretty much five shows a week for eight weeks. Overall, the attendance was strong. Some were better than others but that's the way it works. No matter how many or how few people were there, those who were there actually wanted to be there. There weren't any fairweather fans at all in attendance; everyone was engaged. We anticipated the middle of the week dates to not be as well-attended as the weekend dates, but there were plenty of times when the weeknights were packed solid. All of the dates were a half-hour set, except in Fresno, where we played for 45 minutes.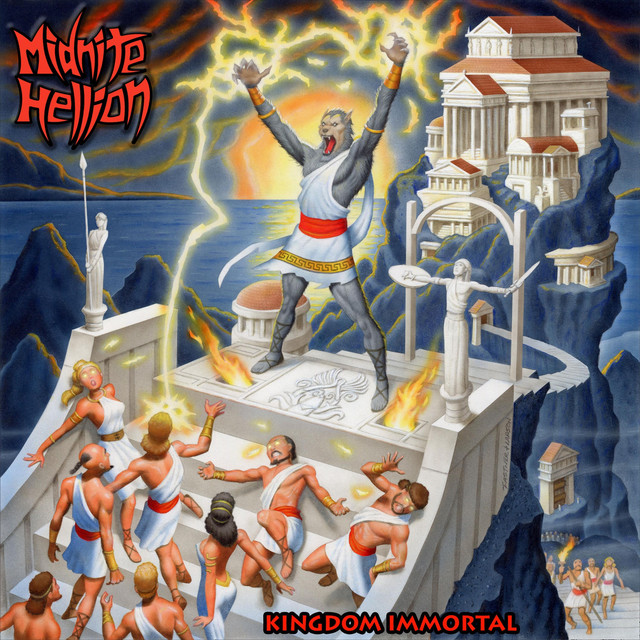 Is it pretty easy coming up with a set list these days? How far back do you go as far as playing songs live?
DR: With more material under our belts, it has actually gotten more difficult in a way to come up with the setlist when it is only a 30-minute set time. We want to vary it up for the crowds with new material but we want to make sure to feature older material as well. We play everything from the first two albums only for the most part, and once and a while will bring out 1903 from "Enter The Unknown." For this tour, we did four cuts off of "Kingdom Immortal" and three from "Condemned To Hell."
You guys must be tight as fuck now after finishing up this tour not so long ago am I right? Now that it is over, what are your plans going forward? Would you like to see an overseas label pick up your release?
DR: Haha, yeah, we had a lot of practice, to say the least! This is just the beginning for "Kingdom Immortal," as we prepare to hit the road again in 2023. It absolutely would be great to have an overseas label license the album as it is currently available only as an import and international shipping rates aren't exactly the most reasonable lately.
How cool was it to tour with a band like Anvil which has been around forever? I'm sure they gave you some good advice about touring and whatnot? What did you learn about yourselves on this tour?
DR: As a drummer, it was the best gig I could have dreamt of. I had the best seat in the house watching Robbo play every night! They were truly great to us and we got to spend a lot of time together. We even went to visit Graceland together on an off day from the tour! As a band, we learned that there is no turning back, we began to pursue our dreams and are taking it all the way for as long as we can physically keep playing. As an individual, I learned that the body can survive a week without a real meal and with strenuous daily exercise. Some days I wouldn't eat at all; others, literally only a Snickers bar. I also learned that I am fortunate to have the best team to rock with, Rich and Charles rule!
What was like like getting to hear "Metal on Metal and Forged in Fire live every night ha ha?
DR: Believe it or not, Forged In Fire was only played once and at a soundcheck in Reno! That was a blast to finally hear live as the dozen or so times I've seen them prior to the tour they never played it. Funny too, because it's one of the songs they cycle in fairly often. Metal On Metal meant a couple of things, mainly that it was five minutes until it was time to get working again!
What were some highlights and lowlights of the tour? What were some of the places that surprised you that you played at? What was playing on the West Coast like?
DR: Getting to see so much of this beautiful country that I hadn't experienced before was incredible. I've been to California before but only to LA, so to see the entire coast was great. Most importantly, rocking every night of the week for so many new fans mattered the most, as well as meeting them all after the set. Can't wait to see 'em all again soon! There were no true lowlights, other than vehicle issues which all three bands experienced at one point or another and a few hotel issues that we ran into. Showing up to a venue without electricity and another without indoor plumbing made for interesting load-ins, but thankfully in both cases, they were due to the city working so all was good by showtime. Kentucky, Tennessee, and Oregon were the biggest surprises, and in great ways. Excellent to finally play the West Coast, San Diego, The Whikey A Go Go, Bellingham, WA, every night ruled, and every state ruled!
What are some of the do's and don't you learned about touring with a band like Anvil?
DR: Be prepared for literally anything and everything, because you never know what comes next. Prepare for traffic, and then over-prepare for it. Water is important so make sure there's room for a supply in the trailer.
So is any merchandise from the tour left over for sale? (where is my shirt ha ha). Did selling a decent amount of merchandise help you make it out there with gas prices through the roof? What was it like meeting all your fans on this tour that otherwise you might have just talked to on Facebook, Instagram, Bandcamp, etc?
DR: Haha, I'll get ya one in the mail, shoot me your size and address! We do have some left-over tour shirts, but not a lot considering how many we ordered. Figured it was better to have too much than not enough and try to coordinate a drop-ship during a tight schedule. Merchandise sales covered our gas completely, and we are very thankful to the fans for their support. Speaking of them, it was a total blast putting faces with names meeting so many of them for the first time in person, as well as reconnecting with older fans we met on previous tours. Can't wait to hang with them all again soon!
How much do you think the band's sound has changed over the years?
DR: I think the sound of the music hasn't changed at all, it's always been the sound of Midnite Hellion since day one. As a primary songwriter, I've ensured that the songs hold true to the sound of the band. Vocally, it has changed but that's due to the style of the singer. We've had this total sound for 6 years of our 11 years and counting!
Now as far as releases go, what do you know is still for sale, what stuff to you have for sale and where can people get it?
DR: The only releases available for sale are "Kingdom Immortal" and "Condemned To Hell," and both are available directly through us. "Kingdom Immortal" is currently available on Vinyl, CD, and Cassette, and as of this writing, we have a total of 86 copies left of "Condemned To Hell" only on Vinyl. There are no plans to repress it either, so once it's gone, it's gone! They can be ordered at http://midnitehellion.bandcamp.com, and if you'd like them to be signed, just let us know! Additionally, we have t-shirts, hooded zip-up sweatshirts, long sleeves, tank tops, pins, patches, bandannas, and neckbraces which are perfect for after a neck-thrashing concert!
Please plug any websites or social media pages you have.
DR: We're all over, here's a list of where to find us:
Official Site: http://www.midnitehellion.com
Bandcamp: http://midnitehellion.bandcamp.com
Facebook: http://www.facebook.com/midnitehellion
Instagram: http://www.instagram.com/midnitehellion
Twitter: http://www.twitter.com/midnitehellion
YouTube: http://www.youtube.com/midnitehellion
Drew, horns up and thanks for this awesome interview any last words to wrap this up?
DR: Chris, thank you so much for this interview! It was great to discuss everything happening with Midnite Hellion as well as a great trip down memory lane! Thank you for all you have done over the years with Metal Core, it's people like you who keep bands like us going. Thanks again, and hope to see you again soon at a Jersey show, and see all of your readers out on the road soon!