Swedish grime-Metallers INTERMENT's much anticipated full-length album "Into The Crypts Of Blasphemy" has set the official street release dates as 2nd August and 31st August for European and North American territories respectively.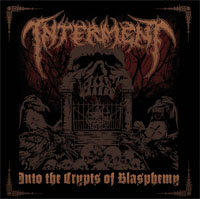 Tracklist:
01. Eternal Darkness
02. Torn From The Grave
03. Dreaming In Dead
04. Stench Of Flesh
05. Where Death Will Increase
06. Sacrificial Torment
07. Night Of The Undead
08. Morbid Death
09. The Pestilence
You can watch the 45-second video teaser for "Into The Crypts Of Blasphemy" below.