Hi, Could you please introduce yourself and your music to the Turkish Grindcore fans ?
Flow : Hi there, I'm Flow guitar player from the band INFEST from France . We play an aggressive grindcore since 2003 with the same line up. We have just release our second full length "Moshroom" via Metal Age Productions and I'm very proud to make this interview and give news for the Turkish grindcore fans.
The band had been formed in 2003 , have you ever had some spectacular projects before ? Could you please inform us about Excise ?
EXCISE is my old project with Sbeu and Pat. This band is dead since 2003 with the creation of INFEST. We're at this moment 100% concentrated on INFEST.
4 tracks had been composed by you in 2006 and it hadn't been approved by underground media, which one contained the problem ; the music or the recording quality ?
Ohhh no no , this release was only dedicated to the labels in order to find a deal. The tracks were the demo version of our first full length "Feel the rage". With this record we signed a deal in 2007 with Deadsun records.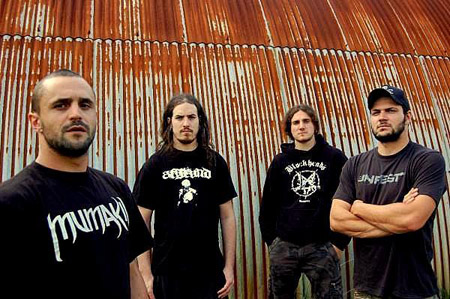 The album called 'Feel the Rage' had been released via Deadsun / Hurricane Entertainement,but as for that 'Moshroom' via Metal Age Productions . What was the reason for this changing?
We had only a one album deal with Deadsun so we decide after the first album to get a new deal with a new serious label. We finally sign a contract with Metal Age Productions in Slovakia. Relations are very serious and professionals and we work well together.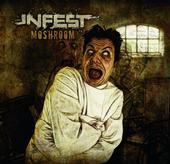 'Moshroom' is a new and (for me) great album ; I have explored the comments and reviews , most of them were positive but i couldn't understand what they exactly mention , what is the reaction ? What does the people mention in this reviews?
Ohh yes, TheReviews are pretty good and it's a great news for us and for the new album. Most of them speaks about the evolutions between the two albums. Good feedback too concerning the production and the global sound. We make the mastering of this album on the famous Cutting Room studio in Sweden with Mats Lindfors. Most reviews speaks too about the great design of the cover and the album in general.
In general grindcore bands prefer to use political and social lyrics,i couldn't find your lyrics anywhere but as i understand from the track titles ; i think you don't use political themes in your music.Could you please give us an information about this situation?
No, we don't use political subjects on our lyrics. We speak more about personal situations and some funny subjects. (I like this more than politic lyrics, cool / Goremented)
I heard that you are going to release a split album in 2010,is the other band determined ?
Yes , we will normally release a split this year with the grindcore bands TREPAN DEAD from France and UTOPIUM from Portugal. We're speaking about all the details at this moment but when I 'll have some more news I will come back to tell you news about. The only thing I can say today is that it will be brutal !!!!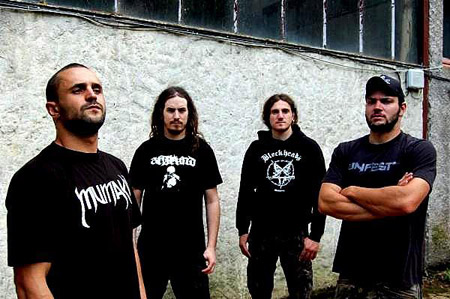 What makes you prefer split album to a LP or an album ?
This split project will be our first split since our debuts. We prefer make an album but it's good to have more and more experiences and try new things isn't it ? (Logical 🙂 / Goremented)
I think that you are available for the gigs in abroad.Where have you gone for gigs for today ;have you made some deals from now ?
We 'll start the year 2010 with the Brutal Grind assault festival in Switzerland with some fucking great bands like Yacopsae, Ingrowing, Blockheads ….
We 're ready to play anywhere and hope we will have the possibility to play in Turkey one day !!
Don't hesitate to contact us if interested
That's the end; have you got something to add ?
Thanks a lot for the interview. Long life to the zine and don't hesitate to be in contact with us via our myspace profile at www.myspace.com/infestbaiona
Support the Underground !!!