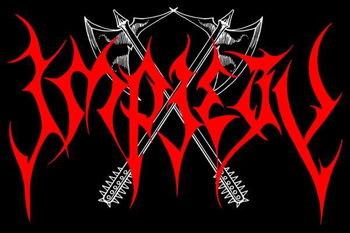 IMPIETY, the goatfathers of Asia, needs no introduction at all.The following interview was conducted during Impiety's Bangladesh tour(which was one of the pit stops in the THE HERETICAL DECIMATION TOUR) where they performed at Banish The Posers Fest 2014, put by the cult organization Primitive Invocation. I, NabilAbaddon, had the honour to interview Shyaithan Kommand at the gig venue. Some highlights from the conversation are given below
You can watch the full interview video below.
Nabil: Welcome to Bangladesh Brother! How are you doing and how are you liking Dhaka so far?
Shyaithan:This is the first time in Dhaka. Thanks to Iftekhar from Banish The Posers Fest for bringing us here. So we are looking forward to the show here. I think it will be a fucking good show. Many great bands we (have) met. Couple of bands we saw so far and we are anticipating for the show the tonight.
Well, its an auspicious moment for us having Impiety in Bangladesh. So I would like to ask you, how did all this come about? How did Primitive Invocation approach you for the Bengal Invasion? How important is it to you to tour different corners of the world which might not be best known for metal?
Well, you know I got in touch with Bangladeshi scene couple of years ago. I believe some guys wrote to me, I can't really remember. Then, Iftekhar from Banish The Posers Fest came to Singapore and he met me there and I knew he was organizing some festival. I got to know about BTPF and then we talked. Then we decided that in 2014, Impiety will make an appearance in Dhaka for the first time. I have always wanted to be in this part of the world because I love Asia. I am a son of Asia and I always love to travel and meet true metal warriors through out our Asian continent.
Alright, we all know Impiety is a heavily touring band. You guys have toured to different parts of the world, lots of continents, countries with so many great bands. Which countries or cities would you pick as your favourites?
Each and every country has always something special. But favourites would be perhaps Mexico and USA. It was a great experience in 2011. We played 19 North American shows. It was pretty insane. I would say USA, Mexico, good scene, a lot of violence, a lot of die hard dedicated fans. You can't compare with Asia. Its totally different. But if you are asking for really extreme people, there you go. Mexico and USA so far.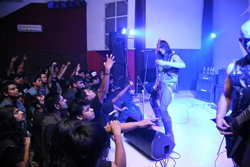 How tough and restless does it get while touring different countries at a stretch? Like you guys arrived in Bangladesh yesterday evening and will be leaving for India tomorrow early in the morning, where you guys have two shows in two different. So how do you maintain this tough schedule? Do you enjoy it?
I don't know. I am a regimental guy. I used to be in the army. I am pretty much used to this kind of lifestyle where you go from point A to point B in just a few hours. Specially if it's the band, I am excited. All pumped up, all geared up. Just ready to destroy. So I don't like to waste time, although sometimes I like to stay and see more of the city you know. But it comes to playing, heavy touring, that is normal for me. I think I am born to do this.
You said that you are the son of Asia. In the last 10-15 years a lot of bands have emerged from Asia as powerhouses in the global Metal scenerio. You have seen it all with your own eyes. The changes and the improvements. Where do you see it going?
I think when it comes to media representations of the bands, its so much better than before. Asian bands always have had tough time promoting their music.I would say in the last couple of 5/6years, the escalation of many new bands, new albums, I think it all goes down to better promotion via media you know, social media and stuff like that. And yeah, there are pros and cons. On a positive note, what I mean is its good to see a lot of Asian bands from each and every country, from south Asia or south-east Asia or Asia in general get well promoted in this time and get well recognized across the world.
A lot of young bands across Asia who are not experienced yet, they go through a tough time to promote their albums, their bands worldwide through proper labels. Do you have any suggestions for them?
Yeah, I would say when I started out, it was really really hard. When I started out, we used to make flyers, photocopies, xerox flyers, cut them up, 500 to 1000 flyers. Put them into envelopes, when we used to trade demo tapes you know. It used to be really really hard cause we spent a lot of money on postage. We used to write a lot of letters. Its so much convenient to write an email. But I would say even if you write an email today, nobody replies you. Back then the scene was smaller. I think everybody around the world wanted to get to know eachother faster. The only way was writing a mail. Today, I think everybody has been spoilt. So a quick email sometimes, you check the email, its upto you whether you reply or not. But I would say, generally today its tougher, mainly because you have more paths and Metal industry out there is totally different you know. Back then it was the underground, now its so much different. Yeah its and industry you know, pop culture, sad to say. That's how it works. Labels only want to sign bands that can sell. So they don't want to sign another band, for example that sounds like Exodus or another band that sounds like Slayer. They want something out of the extra-ordinary and that's going to be tough because you have thousands and thousands of new bands emerging. Most of these badns are mixing sub-genres. Its crazy. I would say its really tough, still if you have the magic to make it, you could possibly get signed by a really good label.
Lets talk a bit about your gears. What rig do you use for your recording and lives?
In general, basically we just use a Peavey 6505 for backline or an Ampex standard. I amnot really particular about gears or pre-amps. Line 6 we have used that, I have used that for guitars, pre-amp. My bass rig pretty simple. I just have a double distortion, nothing else except my tuner.
What bass do you use?
Currently I use two bass guitars. One is Killer from Japan. I have been using it for couple of years. More than 15 years actually. But in between I have changed a lot bass guitars actually. I also use BC Rich.
Are you endorsing any brands?
I used to be endorsed by Monsoon bass. Then another brand from Italy, I totally forgot the name. But it all goes down to what I love to use. I don't really care about branding you know. If it feels good, if I feel good, I just take it and play it and destroy it.
So ext year, in 2015, Impiety will be witnessing its 25th year. Do you have any special tour or release lined up for that?
I think that's a good idea. I am really busy now with a full time job. But I am still very dedicated to Metal and the underground of course. We will see what comes around, its hard to say. I hope to go back to the States next year. May be do another two weeks' tour in Europe. That's about it. I never look far ahead. I take it when it comes. I take it with a smile and a very angry face as well!!
When can we expect the next full length album?
Actually I have just started fucking around with the guitars at home. I have a couple of good riffs in my head. I just need to sit down. I just need a good two weeks to take off from what I am doing, my current job, just sit at home, solitude, everything comes to light. I'll just start and finish one great album. So I am really looking forward to that. So I think early 2015, I say February will a really good time for me to really sit down, get everything done and within one month, just hit the studio and get it recorded.
Alright, we are at the end of this conversation. My last question would be what do you have to say about Primitive Invocation for putting up this awesome gig?
Hey man, honestly, Me and Impiety; Rhando and Nizam, we are fucking appreciative of the hospitality and everything. They have put together really good show today. We really hope not to disappoint the fans. So we will give it our best show tonight. Ravage and conquer man!!
Picture Credits: Shafayet Chowdhury & NabilAbaddon
Impiety: Facebook.com/impietyofficial