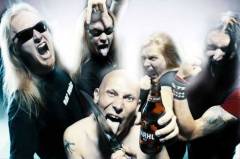 Finnish extreme metallers IMPALED NAZARENE have set "Pro Patria Finlandia" as the title of their ninth studio album, tentatively due on March 28, 2006 via Osmose Productions. The band will enter Sonic Pump studio in mid-November with producer Tapio Pennanen to begin recording the follow-up to 2003's "All That You Fear". Songtitles set to appear on the CD include "Cancer", "For Those Who Have Fallen", "KUT", "Contempt" and "Hate-Despise-Arrogance". The group had previously described the new material as "fast, brutal as fuck, in-your-face IMPALED NAZARENE."
In other news, IMPALED NAZARENE will embark on a Latin American tour in late January 2006. Three shows in Mexico have already been confirmed, with more to follow.
As previously reported, the double 10″ version of IMPALED NAZARENE's "Death Comes In 26 Carefully Selected Pieces" live album was released in September, limited to 500 copies. The band's "Latex Cult" (1996) and "Rapture" (1998) albums will be released in digipack format with new artwork and layout. Both CDs will be remastered at Finnvox studio and will include videos as an extra bonus.