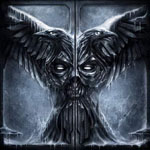 Nuclear Blast Records – 2009 – Norway
Aaaaaiiiiiiiiiiieeeeeeeeeeeeeeeeeeeeeeeeeeee!
Such is the reaction that would likely greet the opening chords of "All Shall Fall" once the Blashryk gates open to herald the arrival of Black Metal's eternal champions, Immortal. On its first salvo of frostbitten riffs and swirling percussion, the threesome are in fine form, energetic as fuck and still peddling the signature Immortal sound. Eight years since exiting the scene, Immortal prove they haven't lost their edge, much to the delight of every axe-wielding necro-douche who worship these infernal sorcerers. Forgiving the redundant title of the second track, "The Rise of Darkness" proves a worthy follow up to the immense opener but it isn't until "Hordes To War" that a serious dose of thrash gets thrown into the mix.
"Norden On Fire" gets the blood boiling as the band lay waste to ancient kingdoms and punctuate the anthem with a very grim incantation of "Norden on Fiiiiiire!" Equal parts their last album and the sprawling "At the Heart of Winter," epic numbers are king on the album's last stretch. "Arctic Swarm" marks the return of much mood and confusion while the hammering "Mont North" keeps the listener's nerves on edge until "Unearthly Kingdom" marks the grand finale for this ice-cold symphony.
On the production front, "All Shall Fall" harkens back to "Sons of Northern Darkness" while the songs here feature glimmers of Immortal's mid-90's output. Musically speaking, these guys haven't sounded this heavy in ages, and Abbath himself seems untouched by age. His signature croak is as loathsome as ever. Though the songs may often be reduced to a blur of grating riffs and hammering percussion, but what else should you expect from Immortal?
Fucking solid, this is.
8.5/10