Reviews
IMMOLATION "Majesty and Decay"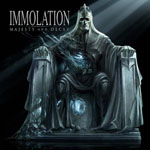 Nuclear Blast Records – 2010 – U.S.A.
New York's finest (not the police, but death metal pioneers Immolation) crank open their latest with a chilling intro before igniting the flames for the utterly smokin' opener "The Purge." As is their wont for the last two decades, the quartet take aim at the Christian disease and annihilate it through sheer brutalness. For those unaccustomed to the Immolation's aesthete, they unleash death metal that churns rather than burns, quite the opposite of what the band name suggests and on the flipside of their far more intense peers Cannibal Corpse.
For album number nine, growler-bassist Ross Dolan is in impeccable form leading his fellow horsemen down a path strewn with the eviscerated limbs of organized religion, the establishment, and humanity in general. It's a bleak landscape Immolation inhabit, riven by tempestuous guitar playing defined by the Robert Vigan-Bill Taylor duo who eschew the frills (alright, so there's an occasional lead) in favor of crackling riffs so thick, you can bash your head against them. The production on the album gives the sonic fare within a sheep most appropriate to its graphic presentation on the cover. There is indeed majesty here and it shares its bombast with the insidious decay of relentless death metal. If this scribe should have a single gripe about the wonderful product Immolation have put together, it's the mix for Steve Shalaty's drumming. Talk about weak. While the man is a beast behind the kit, sometimes you're struggling to hear the seismic tremors of his rapidfire percussion work.
Owing to the band's veteran status, nothing but death metal par excellence should be expected from the eleven songs here (track eight is a somber interlude). The best of the best are the title track, the goose bumps inducing "A Glorious Epoch," "The Rapture of Ghosts," and the muscular finisher "The Comfort of Cowards." A thoroughly satisfying release from start to finish, buy this album and swear fealty before the throne of Immolation.
9.5/10