Interviews
Trending
Illdisposed Interview
An exclusive interview from Denmark's death metal maestros Illdisposed: Guitarist Jakob Batten told me about thirty-year-old band history, their latest album " Reveal Your Soul For The Dead" and current news from their side. Check it out below!
First of all, many greetings from Extreminal Team! How is it going with you guys during the pandemic? Has it been a productive time period for you so far or you see it rather as a chance to take a break from musical engagements?
When the pandemic started we all figured it would be over within 2-3 months. We soon realized that it wasn't the case, so we pushed the pause button to keep the monthly costs at a minimum. It seems that many bands are taking advantage of the situation and writing new music. But I completely lost the motivation because of the major shutdown. So we have been taking a long break and taking other jobs to make up for the lack of income from the band.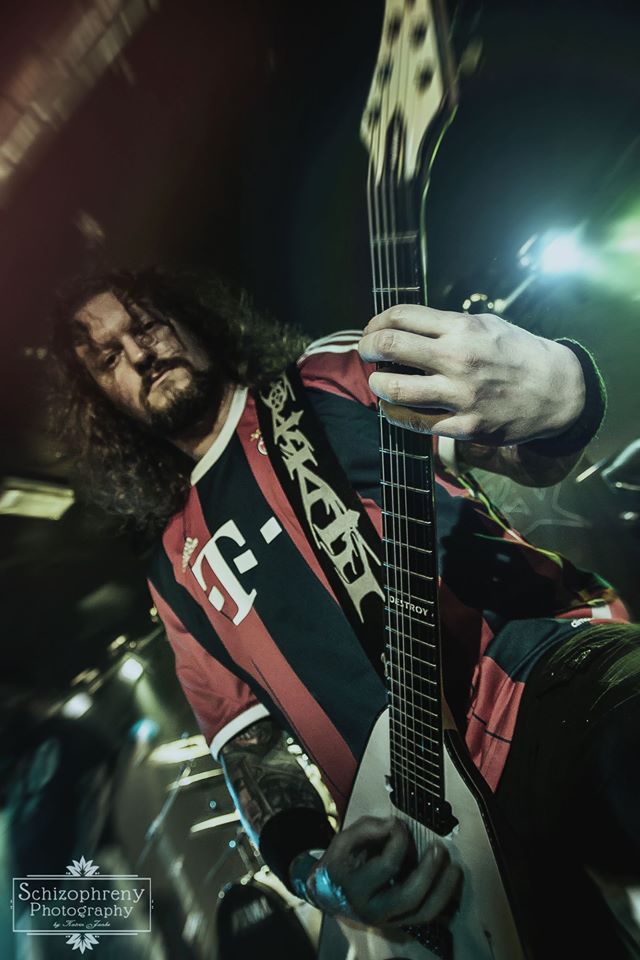 As of now, Illdisposed is active in death metal scene since more than 28 years. Considering you and Bo Summers are the oldest members of the band, is there a change in your mindset regarding the music you wanna perform at the very beginning and now?
Actually, we are celebrating our 30 years anniversary this year. Well, we're not really celebrating anything at the moment – but hopefully, we will be able to later this year. My mindset regarding our music has been changing back and forth a bit through the years. Going from old school death metal to a more modern approach, experimenting with synth and clean vocals, and now going back in the old school direction again. I easily get bored when I'm doing the exact same thing for too long.
You like to tour in Germany and the last time I saw the band on stage you were making a speech in German. Is there any special reason that you often have gigs in Germany except for being not too far from Denmark (and cheap beers :))?
First of all, Germany is quite a big country. And they seem to like us there. It's definitely not because it's close to Denmark, because driving to Berlin can take more time than flying to Turkey 😊 But the beers are good and cheap, you are absolutely right about that.
Your last album "Reveal your Soul for the Dead" has taken very good comments from music critics. Have you already started with the new stuff for a new album?
We just started touring with the album and 6 months later the pandemic started. So we never came to the point where we felt it was time to write a new album. We were supposed to go on tour in South America and Europe during Spring and Summer last year. And then we had big plans for our anniversary this year. So I guess we're just waiting to see what can actually be possible when all of this is over.
We know that metal scene in Denmark is quite big just like in other Scandinavian countries. There are also a wide diversity of bands both in mainstream and underground circle. How do you evaluate the metal scene in Denmark?
We are just a few of the old bands left in the metal scene, the rest of the scene seems to be really young bands. I didn't follow the scene since all these new bands came along. The new scene doesn't appeal to me at all. The music doesn't have the nerve and the feeling it had earlier and there's no ferocity and fuck- you-attitude left. The bands are cast and it seems to be more show than music. It's more about costume and image. When we grew up it was a rough lifestyle. It was us against the world. We were fighting and pointing the middle finger at everybody. When I go to a death metal show today, people are just hugging each other and smiling. It's boring to me.
Do you like to listen to music genres other than metal? If yes, how does it influence your sound in Illdisposed?
Yeah, I listen to all kinds of music, as long as it's good music. I was a fan of the pop group A-HA since I was a kid. I also enjoy listening to prog-rock a lot. And these genres have been big influences on my own music. I believe that's why we don't sound like many other bands of our genre.
Which songs do you like to play on stage the most and why?
The songs that are getting the best response from the audience are always the ones I enjoy playing the most. Because the connection between the band and the audience is really what is making the shows unforgettable. It's different from country to country which songs are getting the best response. But it seems that our "1-800 Vindication" album is a sure shot no matter where we are.
What's the idea behind the story on your last video "…For the Dead"? Why did he give money to the woman?
The ending of the video is the beginning. Some dude is paying a hooker to go with him into the woods and he is hunting her down and in the end-setting her on fire. Unfortunately, the part where she is consumed by flames has been cut out. You just see the guy raising the torch to put her on fire.
Among the others, you've also played a gig for children with cancer in Germany. What is your opinion on charity/benefit concerts?
That depends on the cause – but in general I think it's a good thing. We also donated all royalties for the song "Like Cancer" to cancer charity.
Dan Swanö has made the mixing and mastering of your last album. How was it working with him and will you have any further cooperations?
Dan is a really cool guy to work with, he doesn't stop until you're 100% happy with the result. We wanted to have a fresh expression on this album compared to the last bunch of albums. We didn't know much about how his sound was, we just knew him from the old Edge Of Sanity days. So we just gave him the recordings without telling him anything about what we wanted – and then we were waiting in the excitement of what would happen. And the mix came back way better than I would imagine. The way he is separating all the instruments from each other so everything is heard equally is simply amazing. I definitely think that we want to work with him again in the future.
What does the song "Fear Bill Gates", one of your early works, refer to? What do you think about the development of the "extreme" music industry since those days?
It all started with the song "Near The Gates" in 1997. The song got the title because it sounded like the Swedish band At The Gates. We thought it was funny and in the following years, we did a bunch of other songs that had the "Gates" in the title. "Fear Bill Gates" is one of them. The music industry went the Bill Gates way, everything went digital. I'm not a fan of it, but I'm just being old and grumpy anyway. On one hand, it makes it more easy and comfortable to create music and record it at home. On the other hand, everything is crap because it's recorded at home. And then there's the quality of what people are streaming on their cellphones. It pisses me off. I'm always listening to the records I like on vinyl on a real hi-fi setup.
Thanks a lot for answering our questions! Would you like to add something else for the viewers of Extreminal?
I was just wondering – why has Illdisposed never had a show in Turkey? Tell your local promoter to book us whenever this pandemic is over. Thank you and cheers!!