It's finally available the digital release of "NewTek Lie", debut album of IGNITION CODE (born in 2007 with members of Sawthis and The Juliet Massacre).
Ten tracks of melodic/math/death metal including complex tempos, uncontrolled outburst, extreme breakdown and intense melodies.
The distorted idea of music coming out from this album it's melted with the continuous conflict between man and machine.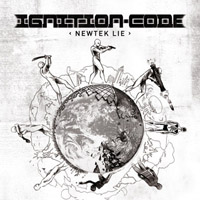 Tracklist:
01. NewTek Lie
02. Nothing Left
03. Organic Program Failure
04. The Illusion Of The Observable
05. M.S.P.
06. Human B.P.M.
07. Biological Prospect
08. MikroKid
09. GameGear
10. The Silent Judge
The preorder of physical disc is available on
Bigcartel
.
Coming soon will be published also the first official video of "Nothing Left", this is the teaser: