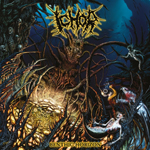 Bastardized Recordings – 2010 – Germany
The band is a fresh one from Germany . Formed in 2008 and also released an EP in same year. They released a full length album from Bastardized Recordings continued with same label and released the album Benthic Horizon few time ago.
The death bands I like from Europe are coming from Germany in these days, I can tell that Germany have more successful death metal bands other than any EU countries.
When I start checking the album the album cover gives an additional point with a nice look, and after start playing another additional point comes for the sound which suits death metal with an European style.
Grubun tarzı için old school death metalin biraz daha modernize, teknik ve Avrupai hali diyebilirim. Bir miktar Polonyalı Behemoth'u çağrıştırsa da onun kadar karanlık değil. Tam "yer yer yeni Avrupalı deathcore gruplarını anımsatıyor" diyecekken de Deicide kadar keskin gelebiliyor kulağa. Enteresan…
About their music, I can tell that its like a little modernized way of old school death metal with some technical European way. Altough it sounds a bit like Behemoth, but they are not dark as it. When I feel like saying '' sounds like European deathcore bands '' it can sound you like like Decide , interesting.
Well done a great job ! if you listen death metal technical and melodic and looking for some European stuff , I can recommend.
9/10