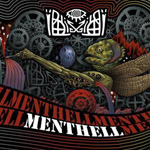 Death To Music Productions – 2012 – Poland
Iblis is a Polish band formed in 2001 and released two demos before. Lately they released this album in March 2012 via Death To Music Productions.
Nowadays I listen too much this kind of bands from Europe. A mix of post-black metal and some progressive influences with new generation sound effects, different vocals. Also it sounds like thrash metal in some parts.
Bass guitar tone is very strong and well chosen for this genre. Blast beats and drum tones are very strong too and made music harder. Vocal sounds like a mix of agressive thrash metal vocals and black metal screams. Some songs remind me Ihsahn but not much, I told this only for example.
I can recommend this band and album for whom like modern sounds and avant-garde stuff.
8.5/10