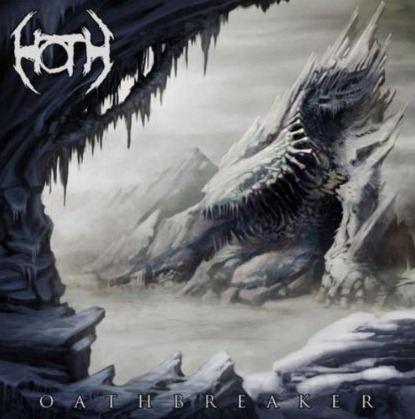 Self Released Album – 2014 – USA
The Americans HOTH are already since 2011 musically on the road. In May 2014 they released their already second cd which is called "Oathbreaker". It is distributed by the label Epicurus Records.
HOTH offer here Black Metal to us. Melodic, with guitar solis which invite for dreaming and relaxing. But, don't worry! This is no cosy Pop music cd. The basic tenor is and will remain Black Metal. Thereby the gents strike rather clamer tones which always move in the mid tempo area. But, it never originates stagnation. By the sophisticated experimentation with tempi a certain movement develops which does the production good. Pitch-black, relatively long songs emerge which present a mixture of light and darkness. Soulful bristled with the coldness and hopelessness of the Black Metal the songs are espeially because of its length very intense. You therefore already have to take time to be able to enjoy the opus in all its facets. By the inserted melodic parts form alcoves which give sufficient time to the listener for relaxing in order to hit upon the idea of Black Metal again the next moment. The experimentation result in all in all eight songs which are in no case standard and distinguish alone already because of their arrangements of many Metal productions. Very professional and dedicated recorded you should take "Oathbreaker" to heart by all means. It's worth it!!!!
9/10