Greetings Hordes of Decay, congratulation for your first album. Tell us something about the beginning of the band.
HORDES OF DECAY was formed in the middle of 2009 by THC and The Saint also members of (PROFANE PRAYER). Later on another member of PROFANE PRAYER Sick Mind joined the line up on bass and J.P.as a second guitarist. The full line up was completed by Maelstrom (Ravencult, Nadiwrath, Dodsferd, Abyssgale) on drums. THC as the composer of the band had already the material of the debut album, so in November of the same year, HORDES OF DECAY entered the studio to begin recordings on the album .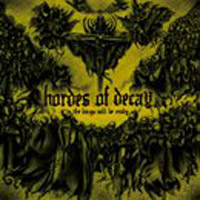 "The Kings Will be Ready" was mostly recorded in the Grindhouse Studio, accept for the drums. Wasn't that a decision that could easily go wrong when you don't record everything in one place?
As you listen nothing gone wrong with the record,so…..
I must say that I was surprised with your artwork. It is all about death and also the yellow/black color gives to it the certain plague touch to say it so. Are you satisfied with it?
Artwork designed by nik kalogirou(http://www.facebook.com/pages/Offensive-Dementia-Designs/102821189795232) and we are completely satisfied with that.
Greece is known for its Black Metal bands and lately they are all becoming more and more melodic, but you remind me more of the older stuff from the Greek scene like Necromantia, Varathron, etc. Another reason why you remind me of these bands is that you don't use a keyboard. Why?
We don't like keyboards!!!
What do you think about the Greek Black Metal scene?
We think that in Greek black metal scene there are some bands that deserve respect. Just that!!!!
Is Hordes of Decay a live band?
HOD is a live band , but we are not ready yet due to some personal reasons.
What influences the sound and lyrics of Hordes of Decay?
We have no specific influences. Our influences are our thoughts and feelings!!
Any last words for the readers?
STAY PRIMITIVE!!!!UGH!!!!