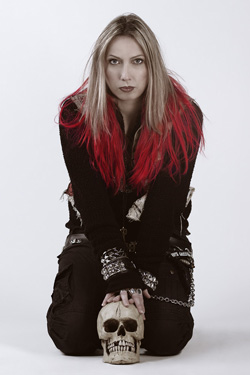 It seems as if Holy Moses at the beginning went through some hard times and did not make a new album between the years 1980 and 1986 which is quite a long time. You also stated that you did not have any thoghts in professional sense for the group. How did you become so popular around the world then?
Sabina: In 1979 I founded my first band with my boyfriend Andy. At first we played songs from Uriah Heep and stuff like this on our acoustic guitars but faster, I bought Andy his first electric guitar. I tried to play bass but I was really bad. The band we called "Desaster". We listened to bands like Black Sabbath, Kiss, Queen and AC/DC. And we traded the tapes and vinyl with our friends and the brothers from Andy. In 1981 Andy joined our high school band called "Holy Moses" and I was pissed off that he left our band "Desaster". Whilst he rehearsed with Holy Moses I sat in their rehearsing room and one day, again a dark winter night in December (1981), the bass player and bandleader Ramon dropped the vocalist. He stood directly in my face and looked at me with the words "Sabina stand up, go to the microphone and sing…", I went as white as a sheet and at that point, I couldn't say anything except YES, I had no choice so I went to the microphone and tried to sing out some tones in the way of my favourite singer Ozzy Osbourne… This did not happen. Instead a deep growling noise came out of my body, from deep inside. I was shocked at myself, but Ramon's face broke into a smile and I was shocked once again when he cried out, "YES, that's it", do it again… and he handed me some lyrics… I don't know what happened, but as of this moment I was the female vocalist of Holy Moses, growling my ass off. A few weeks later I was screaming my head off in their rehearsal room in the cellar of our high school, and we recorded our first demo tape…without knowing that it is a demo tape My life has changed a lot since that fateful day in December 1981. No compromises in my life, it was the fate which I had been sensing since my kindergarten time. I wanted to be free in my mind and soul ……. I was very determined to make this happen and although I didn't realise it at the time, it was really going to be my life up until the next century. So we rehearsed and rehearsed and we produced more tapes and in 1985 some of these found their way to a record company… And in 1986 we released our first album called Queen Of Siam. At first the media was shocked, that a girl could growl in this way, and they thought that we had used special effects…..but it was simply me… and from show to show and album to album, I learned to use my voice very well, to use it without compromise and with all the possibilities and limitations….!!!! Between the second album Finished With The Dogs(1987) and our first Major Release "The New Machine Of Liechtenstein" (1989), which both got amazing reviews from the media, I also became the host of the first German Metal TV Show MOSH on RTL, a major channel……
You had so many changes in the group. Almost in every album there is a change in the members. What were the reasons, did it have any negative influence on the group?
We had long times with the same members, and you have to know, that we started real young. So in all the times, people are changing in their personal way. Members started to study, got married, got kids, and so it was not easy, to do also the music. So we accepted when the members started to begin a new life without the music. I think this is a normal thing. It has a lot to do with the believes in your life
For the Holy Moses,you made changes in your life. Are you happy with all? Have you ever regretted giving up on your school and your job?
I did not give up my school and my jobs, I always worked hard to do both. It was important for me to study also, and I always worked next to do the music. So it was possible for me, to do the music I wanted to do and not changing the music style to get more money with music. I love this band so much, so I did all my life this hard work, to do all stuff next to music.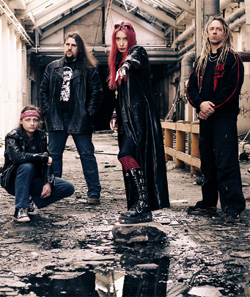 You take part in great organizations. You perform in front of millions, they listen to you, watch your performances and have best out of it. How does it make you feel? How did you feel the first time you were on stage? What about now?
Yes, I happy that I got the chance to play a lot of shows with the band around the whole world. It's giving me a lot of power and energy. It is so great to get such a feeling on stage. When I was the first time on stage, I was really nervous, because I did not know this kind of feelings. But during we played the first songs, it was pure energy and everything went on it's own. I was headbanging and feeling very good. This feeling never changed. I am still nervous on stage, I am still getting this pure energy on stage, and I think this is the reason, why I am now more than 28 years now in this band…now in these days, it's exactly this 28 years, it was a day in December 1981 when I started into Holy Moses.
What do you think of your concert in Istanbul? What were the things you liked and things that bothered you? How come you performed on a bar stage before the concert? A group of people actually invaded the stage and started singing with you. How did you feel then? Are you so close to the audience in general?
Istanbul was a great time, I hope we can come back very soon in 2010. I think we liked all the things in Istanbul, it is a great city and great fans. The show in the bar was a funny thing. We did this autographs and suddenly somebody asked us, do you want to play 1 song down in the bar – and we looked at our faces and the whole bands, says, yes why not….bring some more beer and we started to play and we had a lot of fun. Yes we are also in general close to the audience, we like to talk to our fans and making a lot of friends. We are enyoing to do our music, we love the music and the fans. So we like to sing with the fans, mostly with Too Drunk To Fuck the people are entering the stage and we do a great party together. This is what our music likes to do – interacting and having fun.
During the times you were away from the Holy Moses, you have had projects like Temple of the Absurd and X-Mas Project. Can you tell us about them? Why did you prefer Holy Moses to them?
The x-mas project was a fun project in 1986 and during the time with holy moses, only for a Christmas fun. Temple Of The Absurd was a great time. I had to find back to my roots – It's hard to compare both bands, because it is totally different kind of art in my life. Both parts of my life, with Temple and also with Holy Moses are very important for me. Holy Moses is my whole life, and Temple was a special part, so it has nothing to do with preferring – I was all the time into Holy Moses and I did this project Temple with my best friends for some relaxing time.
Has there been any groups in Turkey that you liked and listened?
Yes I like the old Turkey music, I have a lot of songs on my Ipod, my neighbours are from Turkey and I am getting a lot of great music from them, like Murat Sakaryali, Vionlin Chill Out and Vuslat, Suren Asaduryan, Yansimalar with Senol Filiz and Birol Yayla. This is not Metal, this more a kind of chill out and world music style.
The theme of the group is usually politics, war and chaos. Do you precisely want to talk about them? Do you have any subject to attract the listeners' attention to or do you only wish to make your music attractive?
My kind of lyrics are more into mystic, esoteric, soul, psychotherapy matters. I like to look deeper and the chaos of our souls and not so much into war and politics, I think you first have to start into your own chaos and war in your soul and after you can discuss into politics. I like more to start into the ways of thinking of human beings and into natural healing stuff. This is my kind of starting into my lyrics talking about metaphers, story, lyrical things….I think my music is more attractive when I am talking about things in my lyrics which are having something to do with me and my inner deeper feelings. And do not talk about things, I have no idea about, only to make something more attractive, I think this would not fit to me.
Which albums are your favourites and which are not among the ones you have produced up to now?
I have to say, that I love all the albums I did, because each album is a part of my life and it is like a diary of my life. I do not miss one of it, they are telling all the truth about my inner feeling in that times.
When you look back, do you think there were things to destroy the consistency of the group and what were they?
I think everything what is happening in your life it like a "kismet" ( I think you have the same word in Turkish) – and take the kismet like it is and you will get happy, because all things have a reason in your life.
Who writes the lyrics of the songs in the group?
All the lyrics are my part, because I have to sing the songs and I need to be 100% behind the things I am growling. So I always need my own words and feelings to sing the songs.
Can you please tell us about your next projects?
We are just back from our Tour in Japan, and we will start next week to produce our first new video clip, and also we will start in January to write new songs and starting to work on our first dVD. So we want to produce the new album in 2010 and in 2011, with our 30th anniversary of the band, we want to release the new album and the new dvd, and also we want to play live. So a lot to do for 2010 and we are looking forward for it.
When will you come to Turkey again?
I hope we can come back to Turkey really soon, it would be great to be back in 2010.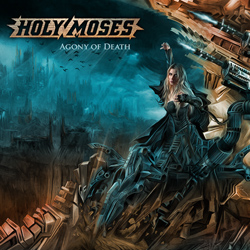 How were the reactions to your last album "Agony of Death"?
We got amazing great reviews for the agony of death, and I also think this is a great album. We did a lot of shows with the new album since 2008, we did 2 huge 6 weeks European tours and I think it is a great support for the new album coming up in 2011. We got so many new fans also with the album, also new young fans, and I am really happy with this evolution.
Are there any shows, tour or festival organizations in the near future? Can you please inform your fans.?
We are just in booking new shows., Right now I can't say really, which ones we will play in 2010, but you can always check on the www.holymoses.net site and checking the news about the new shows.
Which is your favourite Holy Moses album?
This is a to hard question – I love them all….
How are the group members, including you also, in private and social life. What do you like? Who do you listen to?
I think all members are really different people, and this is the reason why it works on stage really great. I am in private and social life more quite, I am reading a lot of books I am painting and working – so it's hard to describe it all into details….but maybe you will meet us all very soon, and getting an idea about us, when you are doing party with us J
And finally, what would you like to say to your fans in Turkey?
Thanks so much for your support and help us to be back in Turkey…we like to come really soon….for touring in Turkey….!!! Kisses