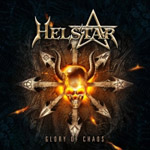 AFM Records – 2010 – USA
Now this is more fucking like it. Though the power metal set may claim Helstar as one of their own for historical reasons, there's hardly anything 'clean' or polished about "Glory of Chaos." It's the band's second album since reuniting in 2008 and their umpteenth since the stretch of 80s near-acclaim before they sunk into the abyss. In between was an unproductive stretch of domesticity put to rest by the quintet's newfound purpose. Little wonder that screaming guitars and a thrashing pace kick the door down for the savage opener "Angels Fall to Hell." The lyrics are as violent as its patented Slayer riffs but there is a considerable amount of melody to anchor the band's undisputed devotion to all-out thrash.
A far more hellish follow up comes snapping at the heels of the frantic introductory barrage; "Pandemonium" is pure brimstone and fire, racing at breakneck speed along to James Rivera's incendiary incantations. Aside from the occasional wail that's a familiar nod to classic metal meisters Judas Priest, James' vocals fit the spitfire style best suited for speed metal, which is Helstar's preferred mode of expression. Indeed, it's somewhat-thrash, somewhat-speed, somewhat-old school metal that enjoys a lot of running time throughout "Glory of Chaos," whose virtues should appeal to fans of Slayer, Judas Priest, Death Angel, and Forbidden. Especially those who've just ingested Forbidden; where the San Francisco cult thrashers are complex and epic, Helstar belong to the frenzied end of the spectrum that's still rough around the lyrical edges. It's a perfect non-combination.
The production on the album is as much a treat as the molten twin-guitar duels between Larry Barragan and Robert Trevino. Rather than go the route of ye 'new' olde school thrashers, Helstar keep it modern and gritty. The layers of riffs and almost-death metal percussion may create a sonic blizzard, but everything's still audible. Unlike all the kids doing thrash these days, Helstar are taking a brave step forward rather than simply rounding the wheel. Even with a vocal style rooted a bygone metallic age the pace and aggression boiling inside each track fits the mood of our troubled times to a T. For ultimate gratification just spin this motherfucker from start to finish, whether it's the headbanging romp "Summer of Hate" or the mosh pit anthem "Trinity of Heresy," the whole damn album burns with righteous fervor.
8.5/10