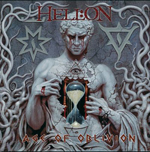 Metal Scrap Records – 2012 – Ukraine
HELL:ON are from the Ukrainia and are no newcomer anymore. Already since 2005 musically on the way they presented last year with "Age Of Oblivion" their latest trick to the public. It is distributed via MSR Productions.
HELL:ON doesn't let them embedded in a musical drawer. This becomes clear from the first minute on. A mixture of Death Metal and Thrash Metal is probably the best description of their music. Thrash Metal riffs riddled with Death Metal riffs (or optional also with pleasure vice versa) resound off my loudspeakers. The powerful doubleblast drumming gives additionally the main points without thereby come to the fore too much. Forceful bass lines still round off the general impression and act supportive. The Thrash vocals do one last thing! The all in all eleven songs get across fresh and energetic. They have bite and self-assertion without thereby to operate in the high speed area. Technical impeccable recorded is "Age Of Oblivion" nevertheless no experimental album. Here were grown musicians at work who know their own mind musically and who implement this consequent and without detours. But, better listen to the cd yourselves and form your own opinions!!!