Death metal band Hell United announced the premiere of their new album Aura Damage is to come on September 11th, 2012. It was produced by a dynamically developing label Hellthrasher Productions.
The album has been recorded in spring this year in Roslyn Studio under the supervision of Krzysztof Godycki in band's strongest and original composition with Dügy on drums and returning on guitar vacancy Rzulty (Stillborn, ex-Deception). Aura Damage is composed of 9 murderous compositions covered with nihilistic somnambulism. It is a mix of a band new approach to a black death metal brutality with tested for years dingy patents known from previous albums HornoKracy and Applause: JHVH Elohim Met. In opinion of those who had a chance to get to know the inside of new record current face of Hell United can be described with a meaningful term of Sadistic Intent meets Arkhon Infaustus. You can judge the heaviness of this words by referring to reveled preview of a single Deathlike Cold:
http://soundcloud.com/hellthrasher-productions/hell-united
Here is how Bartek Kosiński, chief of Hellthrasher Productions comments the fact of signing a pledge with Polish quartet: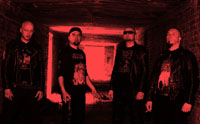 "We've decided to cooperate with the band because Hell United has a huge unbridled potential and amounts of evil energy, not completely presented over the early vale of tears. The negotiations weren't the easiest. It took quite some time but finally we've managed to convince the team to work with us which we are damn happy about. After hearing the first few sounds of Aura Damage we are more than sure that the Polish fans of metal will be battered. I truly believe that the album will be heard about abroad too especially that a limited vinyl version will come up next year to help that happen."
Hell United was coming into existence in 1997 – then named Eclypse – in the composition of – Void – guitars, vocals, Rzulty – guitars, Bartollo – bass and Dügy – drums. In 1999 the band recorded the never released album The Human Abstract, from which two songs in 2000 came to light as a demo Omen. After the change in composition in 2004 the formation due to seems Redrum666 issue the album Applause: JHVH Elohim Met with a brand new tracks, very well-received by fans and the press The following years, in addition to numerous concerts bring a lot of personal problems, resulting in the reorganization and change the name to Hell United. Reborn from the ashes the band is working on new material, resulting in 2007 in the circulation occurs demo Extra-Strength Of The Obscure (Gorification Musix), and a year later full-length HornoKracy (Lilith Prod.). Hell United promotes album, among two others editions of United Death Armageddon tour in 2008 and 2009 in the company MasseMord, Blaze Of Perdition or Mord'A'Stigmata and record material for their mini album, which is published in two editions: a cassette as The Third Sigil of Destruction (Maltkross Prod., 2009) and record under the title Abhorrence Majesty (Butchered Rec., 2011). The first half of 2012, is marked by concerts at the side of Ulcerate, Furia and Intestinal and work on newest album Aura Damage.