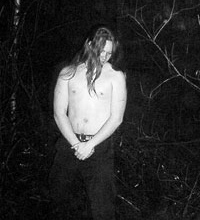 Heidens Hart Records announced their newest signing: German black / pagan metal band Heimdalls Wacht. Without a doubt one of the most respected black metal bands from Germany, always following their own old-school path and attitude, never wimping out or going for the stereotypes or for cheap political remarks.
Their latest album 'Nichtorte' was originally released by an established promising German label which unfortunately folded right after the album was released. Only a couple of hundred cd's were sold, and no promotion was done at all, leaving a big demand for the album.
How better for Heidens Hart to start of this collaboration of tyrants with a proper and deserved release of this latest and most important Heimdalls Wacht album 'Nichtorte – Oder die Geistreise des Runenschamanen'!?
The band is currently writing a new album to be recorded later this year. New official merchandise is now available as well via
www.heidenshart.nl.nu
.