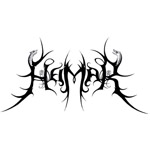 Self-released – 2012 – U.S.A.
The Americans HEIMAR put at the beginning of the year 2012 their first EP "Eld" in in-house production on the scene.
You can hear here tones of endless mourning and sorrow without hope for cure. The songs of HEIMAR get along dark and very emotional without any vocals and technical folderol. Very emotionally charged songs which accompany the listener in pitch-black mental realms. Kept simple song structures which make leeway now and then in the Ambient area support and reinforce the desperate situation. "Eld" is a very emotional EP which gets under the skin and makes a lasting impression on the listener. The duo HEIMAR did here everything right and delivered a respectable work in the Black Metal / Depressive Metal area. Check out HEIMAR and judge yourselves!!!!