Reviews
HEAVY TALES: The Metal. The Music. The Madness. As Lived by Jon Zazula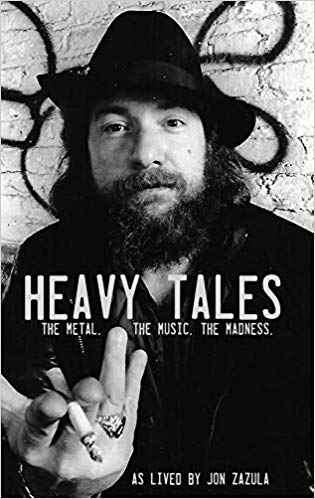 This is a book review I did of Megaforce Records co-founder Jon Zazula called "Heavy Tales: The Metal. The Music. The Madness. As Lived by Jon Zazula". First off, I read the book in less than one day as I couldn't put it down! It is simply amazing and is easily one of the best book I have read in my 54 years of being alive. It talks about Jon's early days of growing up in NY, at one point he was living on the actual streets of NY, and then a bit later on in life he met his soon to be wife Marsha. He worked a few jobs here and there and even got arrested at one point and even spent some time in jail and then when he was in a halfway house during the week he took a big risk on the weekends and opened up a little record store, in the corner of a record store in a flea market no less and called it "Rock N Roll Heaven". He named it that it honor of dead rock stars. The reason he took the risk in my book so to speak was that he was selling heavy metal imports at the time and making a little money here and there with it. The store eventually started making some money so he eventually brought down Anvil from Canada for a concert in the flea market (ha ha), and this was in 1982. Soon after an unknown person brought in Jon this demo tape called "No Life Till Leather" by this unsigned band called Metallica. Jon never listen to demos while in the store, but this person insisted he give it a listen and when he did Jon went crazy when he heard this and brought them out to the East Coast. He has them staying over at his place and then at the "Old Bridge Metal Militia" houses. He books them some shows and after no record labels want to sign them he takes the risk of his life by starting his own label calling it Megaforce Records and signing them. He moves his little store out of the flea market and over to Clark, NJ. I got to visit "Rock N Roll Heaven" a few times myself on the way up to Lamour's in Brooklyn, NY and that store was incredible and where I discovered the fanzine bible "Kick Ass Monthly. You have to remember this was in the times of no internet, no cell phones, no social media. You only had print mags out there then and back in 1982 there was only a handful of fanzines even around in the US. His store had tons of just fuckin metal. The book goes into the whole story of how the label grew from just signing one band to signing and working out deals with major labels and even starting out his own management company was fascinating. I couldn't put the book down. It was a sad thing reading out things between him and Metallica fell apart, but the man picked himself up and moved on and he worked with and signed deals with Anthrax, Raven, Testament, Mercyful Fate, Exciter, Overkill, Stormtroopers of Death, and many other bands. Most people think of Metallica as this huge big band these days and they are, but had it not been for one man, one man that took a huge financial risk and believed in the band that much, Metallica I don't think would even be around these days. There is also many old photographs that had me smiling as well. Check out this book at all costs, if you call yourself a metal fan.
Hardcover and paperback copies of Heavy Tales are now available
via www.jonzazula.com, as well as digital retailers such as Amazon and Barnes & Noble. The ebook version of Heavy Tales will be released on Black Friday, November 29.