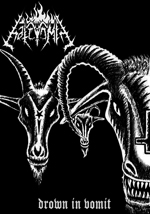 Underground Resistance 666 – 2013 – Turkey
HATEVOMIT are from Turkey. Some time ago they released their demo "Drown In Vomit" in in-house production.
Here is celebrated severe Black Metal. The all in all four songs tear raw and impetuous at the listener. Thereby is also intense poached in Death Metal realms. This mixture results in the sound of HATEVOMIT. Pitch-black musical worlds develop which reflect aggression and misanthrophy. Thereby the gents conscious relinquish of technical folderol. Distinctive, very primal growls reinforce darkness and intensity of the production. Conscious kept simple song structures support the morbid general impression. "Drown Into Vomit" got a pretty intense demo which demands a lot from the listener. Who is into primordial Black Metal with Death Metal whom I can only recommend "Drown In Vomit"!!!!
7.8/10