Reviews
HATEBREED "The Divinity Of Purpose"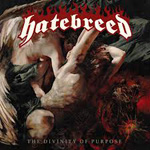 Razor & Tie – 2013 – U.S.A.
After 4 years, hardcore band Hatebreed from Connecticut, is with us with their 6th album 'The Divinity Of Purpose'. Hatebreed which is a strong pioneer in hardcore, have started their journey in 1994 with 3 demos and then first full length in 1997. So what has changed since then? Actually nothing! Hatebreed is still moving on with solid pace, without compromising and in an extremely aggressive manner. The Divinity Of Purpose, which has started to labor in 2010, produced by Josh Wilbur(Lamb of God, Avenge Sevenfold) and Chris 'Zeuss' Harris(Suicide Silence, Soulfly, Shadows Fall, Chimaira) and released in North America labeled by Razor & Tie, in Europe labeled by Nuclear Blast. The band started to walk with Wayne Lozinak who has rejoined with the cover album 'For The Lions' and 5th long length 'Hatebreed', and 'The Divinity Of Purpose' is ready to be eaten!
First of all Jamey Jasta is an unique vocal for hardcore and he makes you feel his power throughout the whole album. The album has got a catchy theme with extremely striking, hard lyrics. Even if you just look at the track names you'll get what I mean. The whole album is shouting at you ' Get up and fight!'. Starting with the 'Put It To The Torch' in an aggressive way,the album continues with 'Honor Never Dies'. For me, it's one of the most remarkable, striking track in the album. Jasta created the song after his grandfather passed away. Stand for what you believe because honor never dies! I guess lyrics are clear enough! 'Own Your World' starts and ends with full speed. You will join the team and start shouting with the call and response " Who's got more heart than you"-"No one!". Afterwards, you just can't stand still with 'Before The Fight Ends You', 'Indivisible' and 'Dead Man Breathing' . As a conclusion Hatebreed, again, did their best, it's an extremely aggressive and self couraging work. You will find yourself shouting and stamping around while you listen the album. It's an album that you must listen before you get into a fight!
8/10