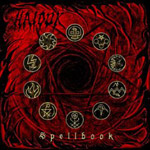 Self-released – 2012 – Canada
The Canadian 1-man project HAIDUK aka Luka Milonjica put last year his first full-length cd named "Spelbok" in in-house production on the dark Metal scene.
"Spellbook" starts with an instrumental song ("Black Wind") which actual already sets the musical direction. You can hear here Death Metal with a portion of Thrash Metal. Hard, dark riffs which have self-assertion and variability are supported by forceful doubleblast drumming. Thrash Metal speckles relax the dark, aggressive atmosphere a bit without being too melodic or even veer off the Death Metal path. The distinctive, dark growls reinforce the hopelessness and also the power which is embedded in each single song. All told reveals in the distinctive, independent sound. The ten songsd all move in the mid tempo area and ooze of energy and darkness. Very dedicated and professional recorded prooves HAIDUK that you are also as a solo artist able to create innovative music on a high level without thereby slipping off into the mainstream. Listen to the cd. I can only recommend "Spellbook"!!!