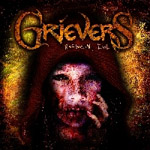 Punishment 18 Records – 2010 – Italy
I'm introducing you another Italian band again. Grave is a new band formed in 2008 and they released their first album this June. My followers know that I generally thrash metal bands from Italy, but this time I'm reviewing a melodic death metal band.
It's been a long time that I haven't listened to a melodic death metal band, new generation bands combine Swedish melodic death metal and metalcore. But Grievers isn't one of them, and interestingly, this isn't Swedish style too! Melodic and technical. Then let's call this Italian style melodic death metal 🙂
This is a different band from the other bands making this style. I can suggest to those who look for something new in the name of melodic death metal, this album is tasty.
9/10