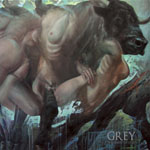 Bastardized Records – 2010 – Germany
German band Grey's album cover took my attention first. I like this kind of drawings, oil painting and colour tones are very impressive, at least for me. This album is on the market since 20 August.
I couldn't guess what might come after this album cover. This is an album that I hadn't listened to something like. I don't have a clue about lytics, compositions are melodic, it is like metalcora but more variable, complex and technical. Vocal is hardcore scream/aggressive vocal, more than metalcore… To sum up, I think I would call this band a mathcore band.
I like those combed riffs after broken riffs. I investigated about the band on the internet, they didn't have good review points, but I think listening to them is funnier than listenin to a ordinary metalcore band. And it's not bad at all. I can suggest to those who likes things with 'core'.
8/10