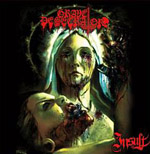 Ketzer Records – 2010 – Brazil
Once again I have encountered a high-level-aggressive band from Brazil. Their new album, Insult is released by Ketzer Records. Though, I couldn't get their first album, Sign of Doom.
By using the usual Brazilian riffs in general, the band gives the impression of SEPULTURA and Sarcófago. Especially the influence of Sarcófago is highly visible that even their promo photos are similar. Grave Desecrator is a little bit heavier and closer to death metal genre. However, their filthiness and satanic expressionism is analogous to Sarcófago.
If you really like filthy, aggressive, black/death metal, you will love Grave Desecrator and if you don't, you should just stay away…
7.5/10