Swedish death metal legends GRAVE will release their new album, "Burial Ground", on June 14 via Regain Records.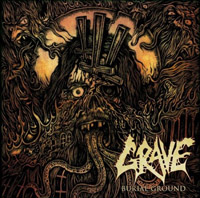 Tracklist:
01. Liberation
02. Semblance In Black
03. Dismembered Mind
04. Ridden With Belief
05. Conquerer
06. Outcast
07. Sexual Mutilation
08. Bloodtrail
09. Burial Ground
The album's cover artwork was created by Costin Chioreanu of Twilight13 Media.