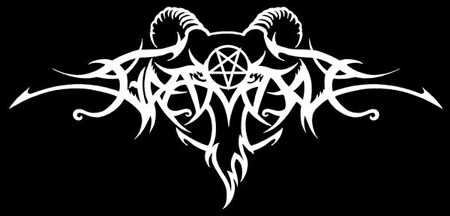 Greetings. Could you mention us about the establishment of Gravdal first of all? Maybe it is not related but was the establishment effected by the shift in the style of Aeternus?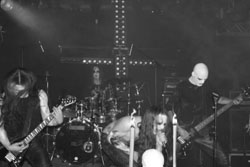 Phobos: Hi, Gravdal was formed by me and drummer Taakesjel in 2005 as a studio project. We just wanted to do a demo for our own pleasure, but with the result and the feedback we got we wanted to do more and make more out of the band witch was a trio in the beginning, we recuited guitarist Specter and bass player Daud.Me and specter started composing more songs to have a full live set, in 2006 we did our first show and afterwords we got signed to Unexploded to release our debut "sadist".The ball went rolling, and we started to find our way to express both live and on CD. Daud left the band short after releasing "sadist" ,me and Specter started writing songs for a new album "Torturmantra"The establishment is not affected by Aeternus in anyway, as i Formed Gravdal before i joined Aeternus in 2007. In Aeternus i am a drummer and in Gravdal i play guitar and did the bass on "Torturmantra". Today we are two Gravdal members in Aeternus as Specter joined the band this summer.
Niklas Kvarforth from Shining has song as the guest vocal in the "Mishandlet" track. Who thought this? Were there any special reasons to choose Kvarforth?
Phobos: I thougth of that after making the song, the song was so different from what we usually do and i felt that Niklas`s vocals would be perfect for the song. I didn`t know him personally, but our manager Patricia Thomas did, as she works with him, so via Patricia we got his accept. And one of the best Blackmetal ballads ever made.
Both of your albums have featured very good artists. We wonder especially how it is to work with Herbrand Larsen from Enslaved? Do you have any difficulties with him?
Phobos: Thanks! No, we don`t have any difficulties at all, Herband is an amazing musician as well as a producer, he understand our music and comes with great ideas and opinions on things and does a great job. He mixed & masteredour first Album wich we recorded at helltune records with Hellish Outcast vocalist S.Otto.Unnison.
"Torturmantra" was recorded at Conclave & Earshot studio by Herbrand Larsen, Bjornar Nilsen and Arve Isdal. Great recording studio with very good producers! Herbrand plays all the additional keys(Mellotron) on both albums.
As far as I know you are writing your songs both in English and Norwegian together. Why don't you use only English or Norwegian ?
Phobos: No, you are probably just confused becouse some of the titles is the same in English as Norwegian( feks Sadist) All our lyrics are written and performed in Norwegian with our city`s own aggressive Bergen dialect.
You were in a world trip with Gorgoroth and Keep of Kalessin 2 months ago. How were the concerts? Have you experienced anything interesting during that period? How did you find the audience ? And what was the most favourite memorable event for you?
Phobos: Yeah, We did a mini tour in europe, and the 9 concerts we did went great. the experience as well was great. We connected well with the audience as a support act, the audience was diverese from place to place, but we always got great respons and feedback after and during our shows, the most memorable event for me was the show we did in Milan and Paris and this becouse of the audience.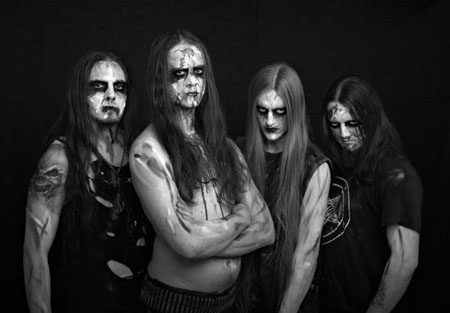 I would like to ask a general question about the audience. How would you comment on the recent black metal audience?
Phobos: It variates a lot, but i think that most black metal fans are narrow minded and more conservative than christians.
How do you find the recent conditions of the Norwegian black metal groups? I think they used to be better do you agree?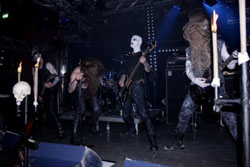 Phobos: The times are always changing. Whether it´s worse or better is only a matter of opinion. There is a lot of old crap and there is a lot of new crap, by both new and old bands.
There were many albums released this year. Have you listened to any of these Norwegian albums recently? Which of them do you find better?
Phobos: The albums ive participated on is the albums i find best. Gravdal -Torturmantra and Galar – Til alle heimsens endar. And other great albums released this year is keep of kalessins new album, the new Burzum album, and the latest album i bougth is Blood Commands debut album.. great stuff!
Burzum has also released an album this year. I'm asking just because I wonder what you think: How do you find this album of the old times ferocious metal artist Varg and what do you think about the donation of the album income to the earthquake victims in Haiti?
Galge: If truth be told I have not heard enough of the album to say my opinion about it.And the album will be donated to Haiti, I can put it mildly to say came as a surprise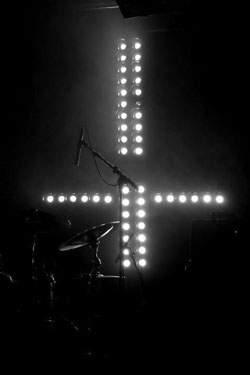 What else do you do other than Music? What are your other interests?
Specter: Besides music, everyone of us have fulltime jobs. Personally i enjoy Theatre, taking photos and wine. Everything art-related is interesting really, to some extent at least. Whether I like something or not is a different question. What´s important is to create, and then it´s very interesting to experience something that has been made by someone else than yourself. Especially when it hits right home.
Galge: Shooting, I am a soldier in the National Guard, recently I went out of their special unit and continues in the regular force. This is because my work with Gravdal then was in danger in terms of any tours or concerts. Film and virtual entertainment has a strong presence, and to get away from the old and familiar, see new places / travel, etc.
Much of the time outside Gravdal is dedicated to friends and family.
What are your future plans? Are you going to start a new tour with Gravdal or do you think about different music projects?
Phobos: Gravdal`s future plans are to play at Hole in the sky 28 of august, we will play a free age limit show called hits for kidz. beside that we will start making new songs for a new album when we feel like it.
There is no tour plans in 2010, but we would like to do something next year if the possibility comes up. and we want to do festivals, so hopefully someone would like to book us.
Maybe I should have asked earlier but what does Gravdal mean?
Phobos: Gravdal translates to Valley of Graves.
Just after the establishment of your group, you have shared the stage with groups such as Taake and Deride. Not all groups can be that successful and get a chance to share the same stage with such groups. What is your secret? Were you really expecting to be that successful?
Phobos: If i tell you its not a secret anymore 😛 hehe. I dont expect anything, but i dont have any limits eigther. To support a bigger band its just to ask, you will get a yes or no.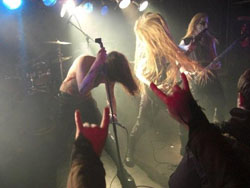 Are the lyrics written commonly by the groups with contributions from every member or are they written by a specific person?
Phobos:  Galge writes our lyrics, and i come up with most of the titles and consept, he present the lyrics to us, and we are all free to add lines or delete lines until we`re all satisfied.
To be honest I don't speak your language but as far as I could understand from dictionaries, you use psychological themes in your songs. Briefly may you mention about the lyrical themes of your songs?
Galge: In short we can say that our theme is about people's weak will and our contempt against those who lett their living grounds be based on a lie, for example religion.
Christianity is mild in expression, but are evil in nature,Evil because it judges the human right to choose, because it constantly looks for the sin you never committed, and because it issuing penalties against those individuals who have chosen an independent and natural life. . It also deals largely with consequences of the choices each make.
If you embrace a god, you have also put behind you the ability to spiritual independence and the ability to determine the maximum force which exists in yourself, no one can help such people I write about, they have paid their one-time ticket. They may well turn back one day, but i will not wait for them, too long answer? hehe.
Robert Höyem has designed your album cover. How did you find or contact him? Did someone recommend him?How do you find the album cover?

Phobos: I got him recomanded by Galar front man Marius, he did Galars both album covers, and after i saw his work with different artists i knew that he was the man for the job. Gravdal came up with the main idea of the cover and we spoke about our idea to robert and he came back with an amazing result!
I'm moving on to my last questions. Which equipments have you used during the recording. Did you preffer to use any special equipment?
Phobos: For the drums Taakesjel used his own pearl kit, with zildjian & Sabian cymbals and wuhan chinas, and axiis pedals.For the guitar i used my Jackson RandyRhoads. with emg81 and 85 pickups on a cobra and a peavy 5150 amp.For the bass recording i used my Ibanez GIO active 4 stringbass. and amp simulator on cubase.
Specter: I used my ESP MII. A Peavey 5150 for a heavy guitar sound, and a Marshall JCM 800 for a rock and roll guitar sound. For the solo guitars I used a Danelectro Fabtone through a Marshall V8080 combo.
The acoustic guitars on mishandlet was recorded with my old vinyl stringed Hagstrøm guitar, and Taakesjel´s cheap ass Morgan with steel strings.
Thank you very much for your answers in advance. Have you any messages to send to Extreminal.com followers?
Phobos: Hell yeah, I do… for all of you reading this, check out our new album "Torturmantra" this is definatly an album worth bying. you can headbang to our songs and follow Gravdal through theese sites:
MySpace: www.myspace.com/gravdal
Facebook: www.facebook.com/gravdalofficial 
ReverbNation: www.reverbnation.com/gravdal