Reviews
GORMENGHAST "Resist or Serve"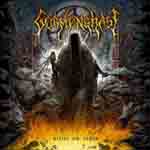 Stygian Crypt Productions – 2012 – Russia
Gormenghast formed in 2008 but I've never heard their name before. Russian band released their debut album in 2012 via Stygian Crypt Productions.
The band plays brutal death metal with old-school death metal influences. Gormenghast is not a clone, certainly original and unique band. If i have to give an example about bands style, maybe I can say Nile. Lately I frequently to express that Russian death metal bands are really succesfull in death metal. Album includes 13 tracks and some of them are short atmoshpheric parts that integrated songs each other, sounds cool.
Intensive blast-beats, melodic and technical riffs, deep grunt brutal vocals used in songs. Everything in its place. A well produced album must be checked by death metal fans.
8/10