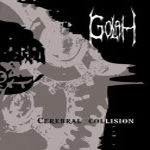 Self-released – 2010 – Italy
A while ago the Italians GOLAH published their demo "Cerebral Collision" in in-house production.
What does my ears hear here? Death Metal with a Progressive touch. Typical staccato Death Metal riffs which are sometime traditional then also again make leeway to the Progressive Metal area come upon strongly featured bass lines. The powerful drumming yet reinorces this impression. Out of this mix develops the sound of GOLAH. The distinctive, emphatic growls of vocalist Gabriele leave a lasting impression to the listener which he will not forget in a hurry. By the Progressive elements receives the demo an own identity. The all in all four songs move in the mid tempo area. "Cerebral Collision" differs soothing of the other Death Metal mishmash and shows the big potential of the band. I am curious what we will hear of GOLAH in the future. Who is not hostile to Progressive Metal and is into harder sounds should check out "Cerebral Collision"!!!