GOD SEED, the Norwegian band featuring former GORGOROTH members King (bass; real name: Tom Cato Visnes) and Gaahl (vocals; real name: Kristian Espedal), will release its debut album, "I Begin", on October 30 in Europe and October 23 in North America via Indie Recordings. The CD was written, arranged and recorded between the fall of 2009 and May 2012. The group laid down ten new songs which "will show the band from a different side but well-rooted in what Gaahl and King are known for in the past," according to a press release.
GOD SEED earlier in the year announced its new lineup. It is as follows: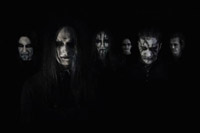 * Tom Cato Visnes (a.k.a. King) (TEMPLE OF THE BLACK MOON, OV HELL, GORGOROTH) – Bass
* Kristian Espedal (a.k.a. Gaahl) (GORGOROTH, TRELLDOM, WARDRUNA) – Vocals
* Stian "Sir" Kårstad (TRELLDOM, DJERV) – Guitar
* Kenneth Kapstad (MOTORPSYCHO) – Drums
* Geir Bratland (DIMMU BORGIR) – Keyboards, Noise
* Lust Kilman (THE BATALLION, GRIMFIST) – Guitar
Commented King: "All members of GOD SEED have been carefully picked for their musical skills and devoted personalities. We aim to release an album which will sound different than what we have done in the past. The new members have been very important for creating a sound that hopefully will come across as unique and defining the new GOD SEED sound. From this moment, GOD SEED should not be viewed as a duo anymore, but as a band with six members."
GOD SEED's "Live At Wacken" DVD and CD was released on January 27 in Europe and January 31 in North America via Indie Recordings.