Psychedelic extreme metal marauders GIGAN recently completed the recording of their upcoming new studio offering. Titled Multi-Dimensional Fractal Sorcery And Super-Science, the band's third full-length, and second to be released through forward-thinking label imprint, Willowtip Records, was recorded with esteemed sound sage Sanford Parker (Minsk, Buried At Sea, Yakuza) at Earth Analog Studios in Chicago. A kaleidoscopic sound voyage that is at once musically complex and meticulously concise, Multi-Dimensional Fractal Sorcery And Super-Science dishes up eight hymns of cranium-twisting, hallucinatory brutality.
Elaborates GIGAN mastermind, Eric Hersemann, "Multi-Dimensional Fractal Sorcery And Super Science is the best musical representation of GIGAN so far, as it captures the essential elements of the first three releases while still stretching the existing boundaries of the GIGAN Universe! I had more time to work on this album and the result is a detailed and mesmerizing assault of Psychedelic Extreme Metal! The production also came out spectacularly, with natural sounds and tones complemented by an un-earthly ambience and enigmatic vibe…"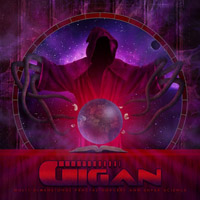 Tracklist:
01. Beneath The Sea Of Tranquility
02. Influence Through Ritualistic Projection
03. Electro-Stimulated Hallucinatory Response
04. Mother Of Toads
05. Obsidian Sun
06. Cosmic Triangular Communications
07. Gibbering Hordes Of Zemiath
08. Bio-Engineered Molecular Abnormalities
The brainchild of left-handed lead guitarist and founding member Eric Hersemann, GIGAN has been challenging the mortal laws of extreme music and creativity since early 2006. Forged around the simple notion that the imagination should be art's only limit, GIGAN's style of creative delivery has simultaneously invoked reactions of amazement, disbelief, shock, awe and ultimately, respect.
Multi-Dimensional Fractal Sorcery And Super Science will be released in North America via Willowtip Records October 15, 2013.