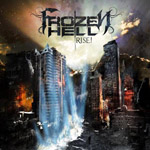 Self-released – 2013 – Italy
The Italian band FROZEN HELL released this year their debut EP "Rise!" in in-house production.
The intro "Incoming Chaos" starts instrumental with drums. You initially doesn't think of a Metal production rather of a cd in the Alternative or Folk area. But, far from it. The following song "Useless Memories" rather shows the opposite! You can hear now Melodic Death Metal. Melodic riffs which partially remind a bit of the Gothenburg school are skilful drawn attention to here. They sound very energetic by their richness in variety. Yes, you can even hear several solis which definitely move forwards. The forceful bass lines and the strong-willed drumming which caters for the necessary hardness are in contrast to it. The energetic vocals yet do one last thing! FROZEN HELL play very ambitious and experienced which affix a very own stamp to the production. The all in all six songs all move in the mid tempo area. Nevertheless they doesn't stagnate. But, better listen to "Rise!" yourselves and form your own opinion. It's worth it by all means!!!