Reviews
FRACTAL GATES " Beyond the Self"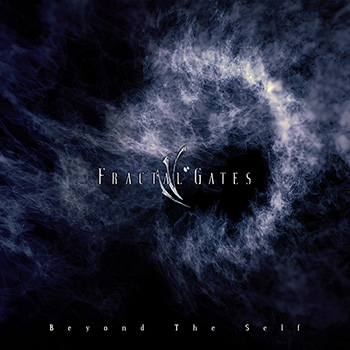 Grate Dane Records – 2013 – France
Another production from the house of Great Dane Records found its way into my electronical Metal letterbox. FRACTAL GATES put this year their opus "Beyond The Self" on the market.
After a short, very spheric acoustic intro FRACTAL GATES show where the musical journey will really lead us to. You can hear Melodic Death Metal. Embedded in Progressives tones develops here a very own musical mixture which is hard and nevertheless doesn't ignores the melodic aspect. The all in all fourteen songs all move in the mid tempo area and definitely go forwards. They nevertheless give the listener enough space to take breath and for dreaming. But, don't worry. "Beyond The Self" has enough hardness in order not to rank as fabric softener music. The skilful use of tempi and melody let develop an energetic cd which has punch and sustainability. The professional teamwork of the rhythm fractions and the vocals put flesh on the songs and give them independency. The vocals also doesn't stagnate. On the contrary, they give additionally the main points and are a mixture of dark growls and snotty, cheeky street attitude. You can't grumble here productional, too. FRACTAL GATES created with
"Beyond The Self" a modern Melodic Death Metal cd which will surely find a lot of fans and which already did.
8,3/10