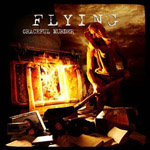 Total Metal Records/More Hate Productions – 2012 – Ukraine
Flying is a band from Ukraine, formed in 1998 and released 4 full-length albums. I think this album released via Moon Records in 2010 but I'm listening a new copy released by Total Metal Records/More Hate Productions. I don't know the difference between two releases, tracklists are the same.
The band is performing melodic death metal with some new generation influences like clean vocals. It's not like Swedish melodic death metal. It smells some thrash and modern death metal. This man's vocals are unique, I've never heard this kind of voice tone in melodic death metal. I like but acclaim changes person by person. Additionally I like brutal vocals too.
I can recommend this band and album to melodic death metal fans, give an ear to them.
7/10