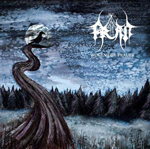 Self-released – 2013 – Germany
The Germans FIRTAN released with "Wogen Der Trauer" their debut on the Black Metal market.
You can hear here Black Metal with a difference. Dark sound frameworks which are enveloped in melodic, but nevertheless pitch-black riffs rendezvous with forceful bass lines. This musical mass is supported by powerful doubleblast drumming which however never pushed itself to the fore. Synthesizer sounds give rise to a surreal, gloomy atmosphere. All in all six songs of epic beauty and hate develop which are implemented very well in notes. The distinctive, diversified growls yet do one more thing that you don't forget "Wogen Der Trauer" not so fast. The listener is abducted in a bizarre dreamworld of darkness, hopelessness and never-ending sorrow. The songs are all written in German language what I see personally as an additional advantage. The good production of the EP is also quite amazing. You notice it with every note that FIRTAN got to work here very ambitious and involved. I can only warmly recommend "Wogen Der Trauer"!!!! I am sure we will hear in the future a lot more of FIRTAN!