News
Finnish doomsters Oceanwake releases new album
In the twilight zone between doom and post metal resides Oceanwake, a broad-minded group of musicians from the small Finnish coastal town of Luvia. They are now set to release their sophomore album "Sunless", which will be out on March 13 via Swedish label ViciSolum Productions. Oceanwake's debut album "Kingdom" already gathered positive reviews, but it's fair to say that Sunless is on a wholly different level in terms of songwriting. Its four lengthy tracks form a coherent album while still retaining the sense of adventure and also pushing the envelope of what can be considered metal. The album was co-produced by the Korpiklaani mainman Jonne Järvelä. He brought in the missing ingredient with his crystal clear mixing that really appreciates the organic and dynamic sound of Oceanwake.
The chief song architect of Oceanwake, Ville-Veikko Laaksonen, explains the story of "Sunless":
"On 'Kingdom' the main character was under water, figuratively speaking, with his hopes and demons. This time around he finally reaches the surface, but only to realize that all hope and images of salvation are a sunless space and escapism gone wrong. Even though he really wants to see a glimpse of something better, his own mind keeps drawing him back to the dark depths."
To celebrate the release of "Sunless", Oceanwake will perform the album in its entirety at Bar Kino, Pori on March 13. Prior to this, Oceanwake appears as a special guest of Moonsorrow at Klubi, Lutakko, Jyväskylä (Feb 28).
Voices about Oceanwake: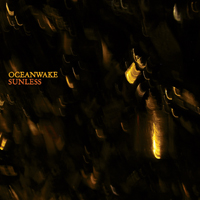 "Oceanwake skillfully capitalizes on dynamics, dramatics and mood shifts. One moment their music is heavy as lead, the next it's hovering above the stratosphere. Whatever they do, it's always executed with a sense of style. 'Sunless' rewards those who enjoy long, slow and meandering songs. If you're into instant radio hits, don't bother." – Markus Laakso/Kuolemanlaakso
"Oceanwake know the soundscapes like they know their hometown. The balance between atmospheric and aggressive is quite right. It definitely would not make them any justice to squeeze them into post-this and post-that categories. I'd say this is first-rate buzzing!" – Ville Sorvali/Moonsorrow
"Hell yes! Great and versatile doomy riffings with post-elements. Sunless is definitely a strong album which keeps you inside the world of Oceanwake!" – Jarno Salomaa/Shape of Despair
Tracklist:
01. The Lay of a Coming Storm 15:37
02. Parhelion 9:18
03. Avanturine 8:03
04. Ephemeral 10:26