Reviews
FAUST "From Glory to Infinity"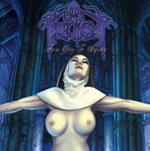 Stygian Crypt – 2009 – Italy
The Italian band, formed in 1992 recorded a demo in 1993 and got in a deep silence, and in 2001 they turned back with a EP. And they recorded their first full-time album in 2009.
Quality is flowing from cover to CD-Rom! When I listened to them at Myspace and wanted their album from the label, I didn't know about the musicians. Basses are played by Steve DiGiorgio who played for Death, Sadus, Quo Vadis and many more bands. Drums are played by Dariusz "Daray" Brzozowski, you may know him from Vader and Dimmu Borgir. The band sometimes was short on members, but this time, they look great.
Band makes technical-proggressive death metal with proggressive melodic thrash/death metal riffs and sometimes acoustic guitar. Band's former Aleister's brutal vocals and guitar solos are very good too. Other members are Ghiulz, who also plays for Profanatum and Doro's guitarist Princiotta.
My favourite song: All of them! If there's a new band, or a debut album, there's always a prejudice on people's mind. But everything for that band is almost perfect, production, recording, instrument tones, compositions are great. They are just to be listened to, not to be told. Faust is a new legend, taste it, overjoy it.
9.5/10