Please initially introduce the band
Hi! First I'd like to say 'hello' to all EXTREMINAL Webzine readers and thank you for a chance to present FANTHRASH to all metal maniacs in Turkey and around the world. FANTHRASH came to life in 1986 in Poland, in times when metal music had its best moments. After being there for a few years and releasing a couple of demo tapes the band stopped in 1992. After a lot of turbulence concerning family and professional life, as well as the band's line up, we came back to life in 2007. The first result of our comeback was 'Trauma Despotic' EP, self-released in 2010. This recording showed the band's potential and a new artistic direction, making us known to many fans and zines around the world. At that time we got in touch with many labels and promoters. 'Trauma Despotic' EP had great reception, which gave us strength and motivation for further effort. Since then we started working on our first full length album called 'Duality of Things', released in July 2011 by a British label Rising Records. The music on this album won acclaim among the fans, the press and the whole underground. There were many reviews, both in and outside Poland. During the production of our album, in early 2011 the band started playing concerts, appearing on stage with bands like VOIVOD, INCANTATION, CHRIST AGONY, PARRICIDE, KAT, TURBO, KREON and many others.

How did you come up with the idea to play Thrash/Death Metal anyway? Which motives did you have?
The idea of playing extreme sounds was born in our young (at the time) minds in the 1980s out of fascination with thrash metal and bands like SLAYER, METALLICA, KREATOR, EXODUS, TESTAMENT, DESTRUCTION, DEATH and many, many others. What drove us? Of course we wanted to be like our idols, we wanted to crush our fans with our music. We wanted to spread anarchy and decay in the world eaten by commerce and, in Poland, by the communist regime. We also wanted to have a great time and, as we all know, chicks love musicians, heh.
Despite such a long break we still observed what was going on in metal music, when all those incredible albums were made, along with the weaker ones. We saw it all happening and we charged our batteries, getting ready for a devastating attack.
In the course of time you changed the bands' named from FANTOM to FANTHRASH. Why did you choose even this name?
At the very beginning, back in the 80s, the band wass called FANTOM (Eng. Phantom), but we changed it later as we learnt there had already been a band in Poland named the same. FANTHRASH is a blend of the words FANTOM and THRASH and is taken from one of our songs that was written round 86-87. Many people dislike our name but we decided to stick to it in order to provoke, especially taken that we don't actually play classic or old school thrash metal, heh.
You are now already several years musically on the way. How did the scene changed over the years?
You know, it's not really like we've been on the scene for all those years, as we had quite a long break. But from the perspective of 'being there' somewhere in the realm of metal music, and with our 'fresh' experience in recording and touring I must say that a lot has changed… but yet so little. Here it is: as technical innovation is concerned, the 80s and the now are like two different worlds, today we're using the technology we could only see in sci-fi movies when we were kinds. This technology is a very powerful tool and now it's much easier to make music and get to millions of people in the whole world, but at the same time it kills real creativity, gives birth to liars and 'false prophets'. And by means of the Internet it floods the already overloaded brains of young people. But what remains the same is the essence, this drive to play live shows, to make sounds that let us feel strong, the drive to stand in opposition to the mainstream world, obsessed with consumerism.
What about the contact within the Polish Thrash/Death Metal underground? Are you in contact among each other or does anyone potters around themself?
The contacts among each other in the Polish underground are now the reflection of our Polish nature. Everyone seems to be supportive to one another, but at the same time they'd love to see you fall. Anyone else's success stands in the way of your own, heh. But seriously, it all depends on the people. There are those we can count on no matter what, but there are also others who, for unknown reasons, won't support other bands and help each other to build the strength of the Polish underground. It's all about the money sometimes, and unfortunately there isn't a lot of it in Poland. Releasing an album and organising a show takes money while young people would rather get everything for free. They've learnt to get any album you want just with a click of a mouse and they'd prefer all concerts were off charge. I know my words may hurt but that's the country we're living in now, where people are poorer and poorer and that's what shapes the attitude of the audience and thus the functioning of both underground and mainstream scene.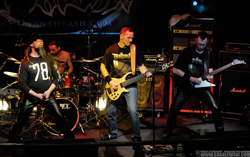 Are there many possibilities for gigs for you?
As for gigs, there are some options and whenever we're invited, we try to take the opportunity to wreck havoc from the stage. The sad thing is, as I've mentioned before, that we are often invited to play a concert in a city 300-500 km away from us without even having travelling expenses (simple petrol costs) covered and in those cases we usually have to say no, however painful it is, as we're unable to meet with our fans.
Despite all those difficulties we try to play gigs as often as possible, taking all the opportunities to play with bands such as VOIVOD or INCANTATION, as we had a chance in 2011.

Now, let's come to the music: Some time ago you released your full-length album "Duality Of Things".Can you tell us anything about the particular songs? Are there any changes in comparison to your previous productions?
First of all, 'Duality of Things' is our first studio album and it's really hard to compare it with our demo tapes from the 80s. As for the songs, we've come a really long way, many years have passed and the music on this album is a mixture of all the sounds that got stuck in our heads through all this time, and various musical fascinations of every FANTHRASH member.
As for the content of 'Duality of Things', things are as follows: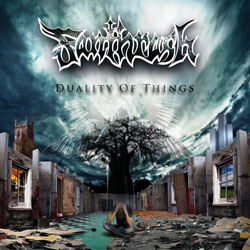 The album consists of 12 compositions:
1. Intro
2. Allocation Of The Soul
3. Aggressor
4. Forced
5. Duality Of Things
6. Under The Open Sky
7. Trauma Despotic
8. Green Tattoo
9. Lizard Skeleton
10. Toxic Mind
11. Domino
12. Rita From The Hills
The musical and lyrical content of this album came to being in the past few years, the only song from the 'old times' is 'Aggressor' which I wrote somewhere in 1996; we rearranged some parts and then put it on the album's track list. I (Greg) am responsible for most of the compositions, with some cooperation on our bassist Mary's part in songs like 'Green Tattoo' or 'Trauma Despotic'; the instrumental 'Lizard Skeleton' and album's 'Intro' were composed by our solo guitarist Pilate. As for the writing process, we work in various ways, sometimes riffs come first and then, after developing the whole song, lyrics are written, but at other times the text is a starting point. There's no rule here. The only thing that counts is the result. As for the recording process and production, we recorded all the tracks here in Poland at our friend Czarek Socha's TZAR STUDIO, while reamping, mixing and mastering were all done by Jocke Skog from FEAR AND LOATHING STUDIOS in Sweden – the same guy who recorded and engineered such bands as Meshuggah, Clawfinger, or recently USA's After The Burial. This way, thanks to the supreme, world-class production we wanted to get people even more interested in a debutant that FANTHRASH actually is.
Have you already any plans for a new cd in 2013?
Oh, sure we have, we're already recording songs for our new 'Apocalypse Cyanide' EP, which will contain 3 brand new songs – the premiere is planned for 8th March 2013. This EP is going to be a foretaste of our second album, which we want to release in late 2013. We're in for a really busy time at the studio, but we're also planning to hit the road with a t promo tour for our new album in many cities in Poland, but maybe in Europe as well.
Alongside with the work on our second album we're also looking for a label which will release and promote the successor of 'Duality of Things' and a booking agency to help us get through to fans in the whole Europe.
How important are your fans for you?
Fans are the most important to us, it's for them that we create new compositions, we work our fingers to the bone during rehearsals to present ourselves the best on stage, sharing the energy that comes from our music. Fans are incredible especially in Poland, they're full of passion and they're unbeatable in front of the stage. I hope that during the promo tour for the new album FANTHRASH will get to the fans in Turkey and give a show full of energy and passion.
Are there any gigs or even festivals planned for 2013?
Right now we're negotiating our participation in some festivals and a few big shows, mainly in Poland. It's too early to give you precise dates and names, but you'll find all the info on our facebook fanpage, MySpace profile and our website.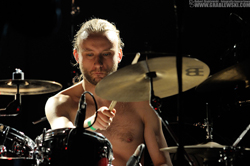 Where do you see the band in 5 years?
Hmm, I hope we'll find ourselves on the biggest stages in the world, in front of multi-thousand audiences, celebrating the release of our third full length, first live DVD etc. OK, that's enough, heh. It's hard to say how things will work out, all I know is that the band will thrive on, that we'll still make and release high quality music and play shows for all our fans in Poland, Europe and around the world.
I hope in the next few years FANTHRASH will make it big and will be noticed and appreciated by metal fans worldwide. It all depends on many factors but we'll continue to do our best. Now we're focused on playing even better shows than before and on our new album, to be released in 2013.
Any last words to your fans?
To finish up, I'd like give a big Hi to all the EXTREMINAL Webzine readers and all the metal maniacs in Turkey and in the whole wide world. Maybe there is a promoter who's willing to invite FANTHRASH for shows to your country. We promise to give you blood and sweat. In the meantime, go buy our 'Duality of Things' album and visit our webite, facebook and MySpace profile where you'll be updated on all that's going on around the band.
Support the whole underground and all those bands in the world, who are often driven only by their passion and your dedication to metal music. Be free and keep your minds open to everything that's new and creative.
Thrash Till Death!
POLAND – Lublin, 15.02.2013
Grzegorz Obroslak
Greg / Fanthrash
Official Website | Myspace | Facebook | [email protected]
FANTHRASH is:
Grzegorz 'Greg' Obroslak – guitars
Mariusz 'Mary ' Ostep – bass
Less – vocals
Wojciech 'Pilate ' Pilat – lead guitars
Radek 'Radd' Grygiel – drums
photo: Robert Grablewski